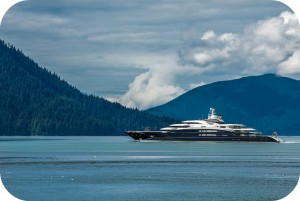 By now, anyone with an online presence knows that you need to think carefully about what you post on social media. Just one ill-considered joke or comment made in anger can haunt a person for years, harming their future prospects and reputation. Along with these everyday hazards, those who come from wealth run a number of additional risks if they flaunt their fortune too flagrantly online. Not only does this tacky act make them susceptible to thieves, but it also provides evidence for investigators on the lookout for shady dealings.
According to a leading security firm, cybercriminals fleece affluent individuals of hundreds of millions each year, with social media frequently acting as their open window. In fact, it's often the heirs to the family fortune who provide the access that thieves need. In one case, a criminal breached a family-owned wealth management firm by correctly guessing that an heiress used her dog's name for her email password. She had no idea that her many social media posts featuring the prized pooch could cost her family nearly $1 million before the perpetrator was finally caught.
Still, this situation could potentially happen to anyone, the only difference would be the crook's payday. But things can really get strange for the super rich if they happen to owe someone money. Whether it's the government, a divorced spouse or an ex-business partner, those seeking a cash settlement will usually investigate the value of the losing party's assets. After all, indebted individuals sometimes try to lowball their net worth in order to pay less of a penalty. This was the case for one convicted fraudster who had a private jet confiscated when his son posted a picture of the plane on Instagram. In another instance, an embattled Russian bank executive argued that a particular case should not be brought against him in the U.K. since it was not his primary residence. An investigation of the tagged locations in his family's social media accounts told a different story, however, and the executive was ultimately charged.
Of course, this week the release of the Panama Papers brought to light another shady practice of the ultra wealthy: tax avoidance. We'll take a look at that seismic story next week.
Questions:
As social media becomes more entrenched in society, will people become wiser about how they behave online?
Why should you be careful not to post anything too personal online, regardless of your income bracket?  
Source: David Batty, "Yachts, Jets And Stacks Of Cash: Super-Rich Discover Risks Of Instagram Snaps," The Guardian, April 3, 2016. Photo by Andrew E. Russell.