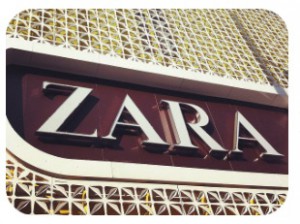 2017 has not been a good year so far for many retailers. Chains like J.C. Penney and Sears plan to close hundreds of locations while J. Crew has posted 11 consecutive quarters of declining same-store sales. But as these formerly powerful brands struggle, the Spanish fashion giant Zara is thriving like never before. This week its parent company Inditex announced that first quarter sales jumped 18 percent to $733.3 million. Plus, total sales for Zara topped out at $6.3 billion, a 14 percent leap from last year.
The company manages to succeed where so many others have failed thanks to its fast-paced design and production strategies. Zara employs 600 designers who receive daily updates from store managers about what's selling and what's not. The team then uses this information to come up with new looks that go into production within a matter of days. With more than 60 percent of the company's garments made in Spain or surrounding countries, Zara can closely control its inventory and quickly respond to trends. Meanwhile, most other retail chains order their clothes months in advance from foreign suppliers.
Zara's constantly changing stock encourages customers to check its website regularly for new products. E-commerce now accounts for nearly $2 billion of the company's business and will likely increase greatly over the coming years. Still, Zara keeps its online presence closely linked to its physical locations. For instance, more than a third of its online orders are delivered directly from Zara stores. Customers can also return Internet purchases to brick and mortar outlets for refunds. Soon the company will have an online presence in 45 countries while also opening more flagship stores around the world. So although the future is bleak for many retailers, the skies certainly seem bright at Zara.
Questions:
How do Zara's innovative production and design strategies give them an advantage over competitors?
Do you think Zara will continue to thrive while its rivals falter?
Source: Jeannette Neumann, "How Zara Is Defying a Broad Retail Slump," The Wall Street Journal, June 14, 2017. Photo by Tupalo.