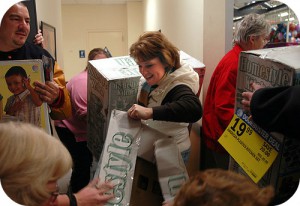 For years the post-Thanksgiving shopping bonanza known as Black Friday commanded the attention of the nation. Even if people didn't leave the comfort of their couches, they likely watched in awe as a procession of news reports detailed the long lines forming outside of stores and the chaos that ensued when they opened. But these once standard scenes of retail madness are becoming increasingly rare. Although Americans' love affair with holiday shopping shows no sign of stopping, customers may have finally grown tired of Black Friday's pageant of craziness.
Retail spending over the four-day Thanksgiving weekend dropped for the third consecutive year. In brick-and-mortar locations, sales fell from $11.6 billion last year to $10.4 billion in 2015. Individual shopper spending decreased as well, falling to an average of about $319 per customer compared to $380 last year. These plummeting numbers could be a sign that Black Friday's long lines and door-buster sales are becoming less appealing for many consumers. Declining interest only tells part of the story, however. Retailers have harmed their weekend hauls by holding sales and advertising deals earlier and earlier in the shopping season.
Many stores began offering "Black Friday" discounts not long after Halloween ended. Other companies joined in with promotions for free shipping of online purchases and price matching against rivals like Amazon. Meanwhile, brick-and-mortar stores continued their newfound tradition of opening on Thanksgiving itself in order to entice early birds with deals. But unlike in past years where retailers elected to open in the evening or late at night, some ailing brands like RadioShack started taking in customers at 8 a.m on turkey day morning. All these related sales and gimmicks make Black Friday seem like less of an event for shoppers. Nevertheless, the retail industry's largest trade group estimates that holiday sales should increase by 3.7 percent over the course of the season, showing that Christmas shall endure as a shopping holiday even if Black Friday fades.
Questions:
Should retailers try to recapture the public's interest in Black Friday? How would they go about doing it?
Do stores that open on Thanksgiving run the risk of presenting a negative image of their brand to consumers?
Source: Suzanne Kapner, "Black Friday Shopping—With Thinner Crowds," The Wall Street Journal, November 28, 2015; Phil Wahba, "The Declining Importance of Black Friday in One Chart," Fortune, November 30, 2015. Photo by: Beth Rankin.