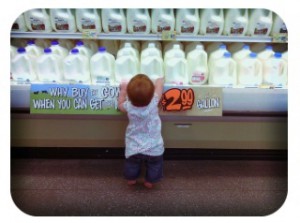 Since 1967 customers have flocked to Trader Joe's to stock up on such unusually named items as Quinoa Cowboy Veggie Burgers and Chocolate Dilemma Cheesecake. And while the grocery chain has attracted thousands of loyal patrons over the years, perhaps no other customer has been as dedicated as Mike Hallatt. For years this Vancouver native would drive 3 hours south of his Canadian hometown to Seattle where he would pack his car with as many Trader Joe's products as he could fit. But Hallatt wasn't just buying groceries for the week: he was gathering inventory for his business.
For five years Hallatt owned and operated Pirate Joe's, a Vancouver store that sold marked up items purchased from Trader Joe's. Unfortunately for Canadians, the Aldi-owned chain does not have any locations north of the border. That's why Hallatt decided to take matters into his own hands and run his own bootleg venture. His regular shopping trips and frequent social media posts caught the attention of Trader Joe's, though, and soon he was banned from entering their stores. Still, that didn't stop Hallatt. He resorted to increasingly cartoonish methods to obtain stock, such as wearing a fake mustache and even dressing in drag once. Eventually he hired a team of "secret shoppers" who would buy the needed items and then bring them back to Vancouver.
With the ban obviously not working, Trader Joe's sued Hallatt in 2013 for trademark infringement and false advertising. At first a judge threw out the case on the grounds that the company had failed to prove Pirate Joe's had negatively affected its business in the U.S. An appeals court reopened the suit in 2016, however, which saddled Hallatt with an ever-growing stack of legal fees. Unable to continue the fight in court, this week Pirate Joe's finally closed up shop. Hallatt marked the occasion by taking down the "P" in his store's sign, leaving the words "Irate Joe's" as a display of his frustration. He was more positive in his farewell Facebook message to customers, though, signing off with, "We are sad that it had to come to this, but hey, at least we had some fun while we were at it right?!"
Questions:
Was Hallatt's business model for Pirate Joe's ethical?
Do you think Pirate Joe's posed a threat to Trader Joe's business?
Source: Christopher Mele, "Pirate Joe's, Maverick Distributor of Trader Joe's Products, Shuts Down," The New York Times, June 8, 2017. Photo by Raniel Diaz.