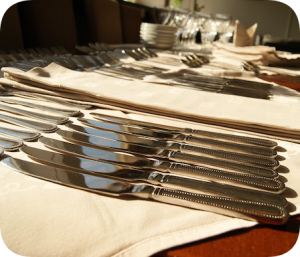 The food service industry has been hit especially hard during the pandemic as restaurants and bars try to stay afloat with fewer customers. But while the struggles of the nation's eateries have received a lot of attention, catering companies have suffered just as much behind the scenes. With restrictions in place that keep gatherings small, not many people need caterers to provide food for their weddings or office parties. As a result, catering companies across the country are laying off employees or shutting down entirely.
"I've never experienced anything like this pandemic," said Betsy Hebron-Marks, a catering company owner who estimates that sales have been down 90 percent since March 2020. "It has ruined people to the core." Unlike restaurants and bars, most caterers do not maintain direct relationships with consumers, which prevents them from shifting to different distribution methods such as takeout models. On top of that, many catering companies have also had to spend money on legal fees after some customers sued to recoup their deposits after canceling events. 
While caterers occasionally get clients who want to serve lunch during a Zoom meeting, the logistics of getting food to employees in dozens of different places complicates the process and increases costs. Other firms have tried offering meal kits to customers with varying degrees of success. In the end, though, caterers require events in order to earn money, and those likely won't be returning anytime soon. "We just need to have more jobs," said Nicole Yamin, whose Texas catering business has experienced a 40 percent drop in sales. "We don't have enough."
Questions:
Why are caterers struggling to stay afloat during the pandemic?
Why is it difficult for caterers to switch to different product distribution models?
Source: Emily Heil and Tim Carman, "The Pandemic Crashed the Party for Caterers, Who Are Struggling Even More Than Restaurants to Pivot," The Washington Post, January 14, 2021. Photo by matchfitskills.