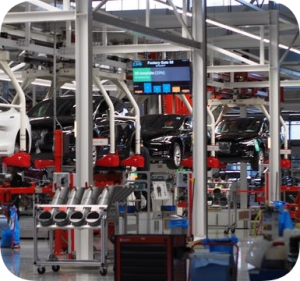 At the start of the pandemic, auto companies anticipated a drop in car sales that indeed lasted throughout spring and summer of 2020. As a result, manufacturers cut back on orders of expensive items like microchips while demand remained low. By the end of the year, though, auto sales bounced back quicker than expected, which sent car companies scrambling for supplies. But try as they might, none of the major firms could seem to secure the microchips they needed for today's advanced automotive guidance systems.
That's because those chips could already be installed in a Playstation or Xbox console. While demand for cars collapsed as people started to work from home and stay inside, sales of consumer electronics like gaming consoles, personal computers, and televisions skyrocketed. These products all require microchips similar to the ones used in modern automobiles, leading to a shortage that has slowed production for most car makers. For instance, Toyota shut down its production lines in China while Fiat Chrysler temporarily closed its facilities in Canada and Mexico. 
"Consumer electronics exploded," said Dan Hearsch of the consulting firm AlixPartners. "Everybody and their brother wanted to buy an Xbox and PlayStation and laptops, while automotive shut down. Then automotive came back faster than expected, and that's where you get into this problem." Although analysts do not think that the chip shortage will lead to pricier vehicles, they warn that consumers will likely have to wait longer for new models to arrive off of production lines. 
Questions:
Why did demand for cars drop at the start of the pandemic?
Why are most major automakers now having troubling securing supplies after demand has increased again?
Source: Jack Ewing and Don Clark, "Lack of Tiny Parts Disrupts Auto Factories Worldwide," The New York Times, January 13, 2021.