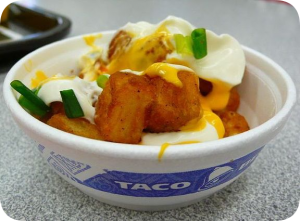 At the start of the pandemic, fast food chains like Taco Bell suddenly had to close their dining rooms and serve all customers via drive-thrus. Many of these companies altered their menus to increase efficiency so that the lines of cars would move as quickly as possible. For instance, Taco Bell got rid of items like the Mexican Pizza and Nachos Supreme to reduce its packaging needs while also ditching all potato items so that it could keep its ingredients limited. 
Although the company said these changes were necessary due to the circumstances surrounding the coronavirus, customers were still not happy to see some of their favorite items go away. Vegetarians and vegans were especially upset that Taco Bell axed its potato items, which are some of the only fast food indulgences that non-meat eaters can enjoy. Customers took to social media to voice their outrage and even started petitions to get spuds reinstated on the menu.
"I feel like I've almost heard from everybody in the country on the potato bites," said Taco Bell's global chief food innovation officer Liz Matthews. "This was the one that really hit home for people." After listening to this outcry, Taco Bell recently announced that potatoes would return to the menu on March 11. Along with working out the logistics of bringing back time-tested items like potato bites, Taco Bell also plans to debut new potato products in the coming months as well as a vegetarian item in partnership with Beyond Meat. 
Questions:
Why is Taco Bell placing potato products back onto its menu after removing them last year?
Do you think Taco Bell should do more to appeal to its vegetarian customers? Why or why not?
Source: Danielle Wiener-Bronner, "Taco Bell Is Bringing Back Potatoes," CNN, January 14, 2021. Photo by Atari, Gracinha & Marco.