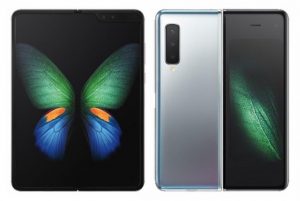 Last week, Samsung sent review copies of its new Galaxy Fold smartphone to the nation's top tech publications in anticipation of its official release. Unlike standard smartphones, the Galaxy Fold can expand to a 7.3 inch display thanks to a hinge connected to a small exterior touchscreen. But according to critics, this unique folding feature led to all sorts of technical problems.
Some reviewers peeled off a "protective layer" placed over the Galaxy Fold's screen that they mistook for a sheet of plastic. In other cases, the smartphone simply stop working after a couple days of regular use. Critics at The Verge noted that debris appeared to enter through the hinge and settle under the display screen. Other reviewers such as CNBC watched as their device failed for no obvious reason. As a result of all this bad press, Samsung announced that it would delay the release of the Galaxy Fold indefinitely.
Although this is certainly not an ideal situation for Samsung, experts predict that it won't do too much damage to the South Korean tech giant's reputation. After all, only a few early adopters lined up to preorder the $2,000 Galaxy Fold, which was always intended to be niche product. What's more, the smartphone only failed in the hands of reviewers, not the general public. This is the opposite of what happened to Samsung in 2016 when a battery issue caused the Galaxy Note 7 to catch fire in some customers' pockets. The crisis surrounding these exploding smartphones spread quickly and left the company scrambling to regain the trust of the public. Luckily for Samsung, the Galaxy Fold's delay is unlikely to generate the same controversy. "The marketplace is pretty tolerant of delayed launches these days," said Josh Lowitz of Consumer Intelligence Research Partners, "and probably more-so than they are of defective products."
Questions:
Why is the delay of the Galaxy Fold unlikely to harm Samsung's reputation in the long term?
Why do you think consumers are more willing to tolerate delayed launches than defective products?
Sources: Chris Welch, "Samsung Delays Galaxy Fold Indefinitely: 'We Will Take Measures to Strengthen the Display,'" The Verge, April 22, 2019; John Patrick Pullen, "A Broken Galaxy Fold Is Bad for Samsung—and Even Worse for Folding Phones," Fortune, April 22, 2019. Photo by Glosome.