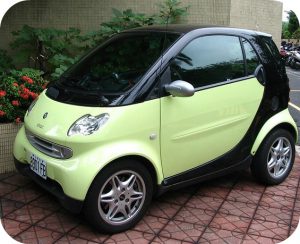 If you've never seen a tiny Smart car puttering around the streets of your town, then you're certainly not alone. The American public have taken little interest in these subcompact, battery-powered two seaters, with the German automaker selling less than 1,200 of its Fourtwo model in 2018. That's why Smart's parent company Daimler recently announced it would stop selling the car in the U.S. and Canada after this model year.
"Micro-cars" like these "make sense when you have small roads and small places to park," said Jake Fisher, director of auto testing at Consumer Reports. "In the United States, where there's plenty of room to maneuver your heavy-duty pickup truck on the way to work, it makes less sense." So while you probably would want a Smart car to weave through some tight European streets, that's not really necessary on America's wide-open avenues. Smart cars also have limited range, traveling only about 60 miles on a single charge. Nevertheless, Smart managed to sell about 25,000 Fourtwos to Americans in 2008 when gas prices were high and incomes were down. But not only has the economy improved in the decade since then, the trucks and SUVs that Americans love have also gotten smaller and more efficient.
For instance, models like the Honda CR-V and Toyota RAV-4 get good gas mileage while also boasting plenty of interior space. "The whole 'SUV equals gas-guzzler' equation is pretty much out the window," said automotive analyst Stephanie Brinley. "It's not just giving up a Smart car and buying a Tahoe. There's a lot of space in between." What's more, many Americans in densely populated cities choose to use rideshare services like Uber or Lyft rather than invest in vehicles like the Smart Fourtwo, which starts out at $24,000. Of course, these services have their drawbacks, too. Tomorrow, for example, Uber and Lyft drivers in eight major cities will go on strike to protest working conditions and wages. We'll take a closer look at this major walkout later in the week.
Questions:
Why would a Smart car be more appealing to a European consumer than an American consumer?
Do you think Americans will continue to purchase SUVs in the long term? Why or why not?
Source: Rachel Siegel, "Say Goodbye to Smart Cars, America. You Love Your SUVs Too Much," The Washington Post, April 30, 2019. Photo by Elijah van der Giessen.