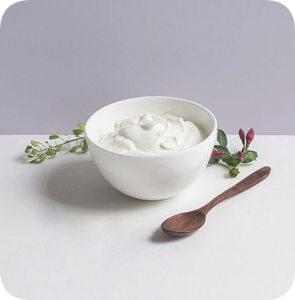 Earlier this week, we took a look at how the nation's two largest milk processors filed for bankruptcy due to declining demand and volatile pricing. But fluid milk isn't the only sector of the dairy market that's currently struggling. In 2019 U.S. yogurt sales dropped by more than three percent, continuing a downward slide that's been happening since 2014. The introduction of Greek yogurt gave many hope that this protein-packed snack would save the industry. Unfortunately, though, Greek yogurt's popularity has dropped in recent years. "Greek yogurt breathed new life in the category, but since its introduction there's been little innovation," said food industry analyst Darren Seifer. "The yogurt category is in need of news."
That's why dairy producers are now pinning their hopes on Skyr (pronounced "skeer"), an Icelandic yogurt that's even thicker than the Greek variety and lower in sugar as well. While sales of other yogurts fell across the board last year, sales of Skyr skyrocketed by 24 percent to nearly $174 million. The biggest Skyr maker currently on the market is Icelandic Provisions, which last year saw its sales double each quarter. The rise of Skyr is especially good news for dairy farmers since it requires four pounds of milk to create a single pound of Icelandic yogurt. Industry insiders hope that Skyr will continue to grow in popularity and make up for declining sales of fluid milk. 
Still, there's no telling if Icelandic yogurt will become the "next big thing" in dairy or just a fad. Not only are Americans consuming less yogurt year after year, but one-third of the country has never bought yogurt and is unlikely to ever do so. What's more, it's difficult even for established brands to make thick, low-sugar Skyr. General Mills recently launched an Icelandic variety named YQ under its Yoplait brand but admits it "hasn't been as successful," leading the food conglomerate to tweak its recipe. Other major companies could experience similar problems, leaving the door open for smaller players like Icelandic Provisions to establish themselves in the marketplace.
Questions:
Do you think Icelandic yogurt sales will continue to grow or will they eventually decline like sales of Greek yogurt? 
Why do smaller operations like Icelandic provisions potentially have an advantage over major companies in the growing Skyr market?
Source: Leslie Patton, "In the Yogurt World, the Greeks Are Down and Vikings Are Up," Bloomberg, April 17, 2019. Photo by Icelandic Provisions.