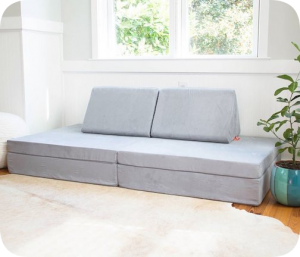 When lockdowns started to be put in place in March and April, parents across the country took to social media to find out which products would keep their kids entertained at home for extended periods of time. The overwhelming favorite among Facebook groups and blogs soon became the Nugget couch, a microsuede fabric couch that is specifically designed for kids to go crazy on. Although it certainly can be used as regular furniture, the Nugget is mainly designed for fort-building, jumping, and other kid activities. 
These features have made the couch such a big hit that its manufacturer can't keep the Nugget in stock. Since the beginning of the pandemic, the couches have appeared frequently on resale sites with prices inflated well above its retail cost of $230. Positive social media reviews have since been replaced by stories from frustrated parents who cannot obtain a Nugget despite their best efforts. "During the shutdown during the spring, I checked the website every day for it to be in stock," said Courtney Nowak Powley. "When they did the drop I was on time and my cart glitched out and I totally cried!"
Powley finally bought a Nugget after winning a lottery instituted by the manufacturer. The only other opportunity parents have to obtain one of the couches is through "drops" of stock that operate on a first-come, first-served basis. So while Nugget has sold approximately 150,000 couches this year, the company knows that this number is not reflective of true demand. "For a lot of companies, this is a great problem to have," said Nugget co-founder Hannah Fussell. "But for a digitally run company, it's not a great problem because the social narrative can take over." In order to meet future demand, Nugget has purchased a new warehouse facility and plans to ramp up annual production to more than 750,000 units next year. 
Questions:
What are the advantages and disadvantages of selling a popular product like the Nugget couch?
Do you think potential Nugget customers could turn against the brand if the company continues to have problems keeping products in stock? Why or why not?
Source: Katie Notopolous, "How The Nugget Couch Became Supreme Drops For Moms," Buzzfeed, November 9, 2020. Photo by Nugget Comfort.