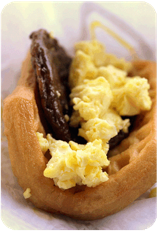 Although it's been more than six years since the start of the Great Recession, many in the restaurant industry have failed to adjust to the "new normal" created by the downturn. In fact, visits to U.S. restaurants have fallen by a staggering 1.3 billion since 2008. As American eateries become desperate for business, many have turned to gimmicky menu items to drum up interest. From Taco Bell's Waffle Taco to the $100 "Never Ending Pasta Pass" at Olive Garden, restaurants are quickly kicking nutritional sense to the side in an effort to get diners in the door.
For instance, IHOP recently added a new waffle that rides the line between breakfast food and dessert. Clocking in at 750 calories, the chain's Very Blueberry Cheesecake Waffullicious Waffle is topped with blueberry compote and chunks of cheesecake along with a filling of cheesecake-flavored goo. "If you think all this sounds desperate, you're right," said restaurant industry analyst Bonnie Riggs about the sugary offering and its savory counterpart, the Bac 'n' Cheddar Waffullicious Waffle. Still, these types of unhealthy but affordable items have been a staple on many American menus for years. Olive Garden has offered the "$10 Never Ending Pasta Bowl" since 1995, and in the mid-2000s KFC began mixing up its infamous Famous Bowl: a bland mass of mashed potatoes, corn, chicken and gravy all lumped together in a bowl.
Despite these early adopters, the last few years have been the heyday for questionably tasty restaurant gimmicks. Taco Bell struck gold in 2012 when it released the Dorito's Locos Taco, an item that earned a tidy $1 billion in revenue in its first year on the market. However, sales of the recently released Spicy Chicken Cool Ranch version have failed to live up to expectations. The original Doritos taco has also started to decline in popularity, though the chain has seen early success with its new breakfast menu. Meanwhile, overall growth has been stagnant at Taco Bell for years, a trait it shares with almost every other restaurant chain save for IHOP. Sales have increased at the pancake house throughout the year, perhaps thanks to its pair of novelty waffles. Restaurant reps haven't credited the new items with the jump, but they are willing to create more waffle hybrids if the concept continues to be successful.
Questions:
Why have restaurants "kicked nutritional sense to the side?"
Will the "gimmicky" menu options continue to grow at American eateries?
Source: Claire Suddath, "Viral Fast Food's Unholy Rise," Bloomberg BusinessWeek, September 18, 2014. Photo by: Brent Moore.