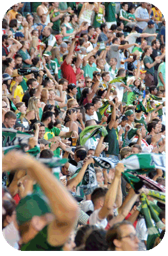 Although Americans love sports, they've never quite warmed up to soccer the same as with other pastimes. But interest in the world's most popular game has been growing steadily as more TV stations pick up games from top-flight European leagues. However, some Americans are busy building their own soccer culture. The Portland Timbers, for instance, have sold out every Major League Soccer home game since their founding four years ago. Thanks to a clever launch and solid marketing, the Timbers became an instant institution in their hometown and throughout Oregon.
Of course, the team did have some history in the city before they landed in the MLS. The original Portland Timbers played in the North American Soccer League, a competition started in the 1970s known mostly for bringing the famous soccer player Pele to the U.S. The Timbers name was resurrected in 2001 as the team played in a number of minor leagues. The rebooted team gained a sizeable following, the most dedicated of whom organized themselves into a supporters' group called the Timbers Army. By 2007 membership had swelled as the fans clamored for a grander stage to perform on.
Timbers' executives knew they had the chance to build something unique as they transformed the organization into a professional outfit. The company brought in an outside marketing firm to help define their brand while also selling season tickets. The resulting campaign placed pictures of cheering Timbers Army members on billboards throughout the city. The ads didn't even display the Timbers' name, just the team's logo and the words "Spring 2011." This unconventional strategy struck a chord with Portland's offbeat citizenry and developed a mystique around the team that would only intensify after their memorable debut match. Since then, the Timbers have kept the stadium packed and fans happy: the 2013 season marked the team's first appearance in the playoffs. Company executives maintain a close relationship with the Timbers Army as well, who formed as a non-profit with their own board-of-directors. At the urging of the supporters' group, the team decided to keep the traditional Timbers Army section of the stadium general admission and low-priced.
Questions:
What was the unique marketing feature of the Timbers promotional campaign?
Why do company executives keep a close relationship with the Timbers Army?
Source: Josh Dean, "Marketing with a Kick," Fast Company, April 2014. Photo by Jonathan Pellgen.