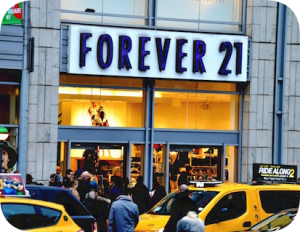 In the early 2000s, fast fashion brands like Zara and Forever 21 exploded in popularity by providing the latest trends at cut-rate prices. But while the former continues to thrive, this week Forever 21 announced that it would declare bankruptcy after years of declining sales. Along with closing up to 178 stores in the U.S., the retailer will also cease operations in more than 40 countries. Hundreds of domestic locations, as well as Forever 21's website, will remain open. "What we're hoping to do with this process is just to simplify things so we can get back to doing what we do best," said Forever 21 executive Linda Chang.
Experts say that the retailer's problems stem from its aggressive expansion into shopping malls domestically and throughout the world. As foot traffic at malls plummeted, so did sales: from 2016 to 2017 Forever 21's revenue fell by more than $1 billion. The company also failed to invest enough in technology and lost ground to other fast fashion brands with reliable and sleek e-commerce operations. "We went from seven countries to 47 countries within a less-than-six-year time frame and with that came a lot of complexity," said Chang. "The retail industry is obviously changing — there has been a softening of mall traffic and sales are shifting more to online."
What's more, Forever 21's core demographic of young women are possibly less interested in fast fashion than in previous years. With many consumers turning to resale sites or sustainable brands, the cheap but disposable options provided by Forever 21 could become less appealing. According to retail consultant Wendy Liebmann, Forever 21 "placed their bets on this notion that fast fashion was going to continue the same way it had for the last decade or so… the emotional and physical aesthetic of it is not something that the current shopper wants as much." Still, other experts say that the retailer's bankruptcy is more evidence of the declining popularity of shopping malls. "It's a self-inflicted catastrophe," said Mark A. Cohen, director of retail studies at Columbia Business School. "This is a bonanza for the competition that Forever 21 has and it's another death knell for the malls they're in that have already lost a Sears, Macy's, Penney's, and are struggling with footsteps diminishing every day."
Questions:
What factors contributed to Forever 21's decision to file for bankruptcy? 
Do you think Forever 21 will be able to recover after filing for bankruptcy and closing hundreds of stores worldwide? Why or why not?
Source: Sapna Maheshwari, "Forever 21 Bankruptcy Signals a Shift in Consumer Tastes," The New York Times, September 29, 2019.