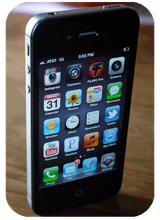 Americans may differ from one another in innumerable ways, but there's at least one thing that unites most of us: our phones. Ninety-one percent of adults in the U.S. used a mobile phone in 2013, including 77 percent of Americans older than 65. Furthermore, people from around the globe are just as attached to their phones as we are. All told, the estimated number of mobile subscribers worldwide hovers somewhere around 4.5 billion people. In fact, mobile penetration is expected to rise to nearly 70 percent of the global population by 2017.
And along with all these cellphones comes a heap of apps to match. At the end of 2011, smartphone users had downloaded 37 billion apps, a number that more than doubled to 83 billion the next year. Both Apple and Android's app stores currently have more than 1 million apps to offer, leaving many users spoiled for choice. As a result, tech experts anticipate that paid app downloads will decline in the coming years as users become overloaded with freebies. In most cases, these apps will "push" information such as promotional offers onto interested customers. Companies like Staples, Domino's and Zappos already rely on these apps to reach out to consumers with deals that appear personalized or exclusive.
Not everyone is a fan of this type of pushy product placement, however. Some users don't want to be disturbed by a constant stream of notifications, even if it's in regard to discounted stuff. That's why a number of companies are turning to "benevolent" apps to present a positive brand image. For instance, winter apparel maker The North Face has an app called the North Face Snow Report that gives users information about various ski destinations across the country. Along with weather forecasts, the app also provides trail maps and a platform for users to keep track of their run times. The app's principle purpose is to build trust with customers and encourage them to consider buying North Face products the next time they need winter gear. While not as proactive as their pushy equivalents, benevolent apps like these can cultivate a helpful, caring brand image that leads to future sales without resorting to coupon-style deals.
Questions:
Can we expect the number of companies using "benevolent" apps to grow?
Will the overabundance of apps cause consumers to ignore them?
Source: Glen L. Urban and Fareena Sultan, "The Case for 'Benevolent' Apps," MIT Sloan Management Review, December 4, 2014. Photo by: Matthew Pearce.