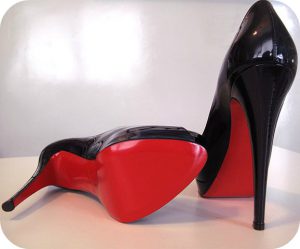 In last year's hit "Bodak Yellow," the rapper Cardi B starts the song off by bragging about wearing expensive "red bottom" shoes. While those unfamiliar with fashion might not understand the lyric, fans of fancy footwear know there's only one brand she could be talking about: Louboutin. Since the early 1990s the company has made high-priced stilettos that all feature bold red-colored soles. With the most basic pair going for more than $650, Louboutin shoes stand as symbols of luxury and status.
In fact, an EU court recently ruled that the brand's red soles are so distinctive that no other company can copy them. The case began when Louboutin sued a Dutch shoe shop which had begun selling their own red-bottom stilettos. The defendants hoped that trademark protection rights wouldn't extend to the combination of a particular color and shape. According to the court ruling, however, Louboutin wasn't looking to hold exclusive rights over the shape of their shoes. Instead, the company was seeking to protect their ability to apply color to a specific part of the stiletto.
Once this ruling is confirmed by a higher court, it could have a widespread effect on how some brands do business in Europe. "This could be a landmark case of considerable value for those brands who use distinctive colors as part of their trademarks and a blow to competitors looking to mimic their products," said John Illsley of the accountancy firm Moore Stephens. "The commercial impact is that brands that have invested heavily in branding and product positioning based on distinctive trademarks should be able to protect their brands against competitors seeking to gain an unfair advantage."
Questions:
Do you think Louboutin's shoes deserve trademark protection for their famous red soles? Why or why not?
How will this decision affect the ways that big brands like Louboutin do business in Europe? How will it affect their competitors?
Source: Stephanie Bodoni, "Don't Step on Louboutin's Red-Soled Shoes, EU Court Says," Bloomberg, June 12, 2018. Photo by Arroser.