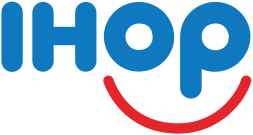 Although founded in the 1950s as the International House of Pancakes, for more than 40 years consumers have known the breakfast chain better as IHOP. For most companies, gaining this kind of brand recognition with a simple acronym would be a dream come true. Last week, however, IHOP announced that its "P" was changing into a "b," lowercase and all. And yesterday the chain revealed the meaning behind the switch: it turns out the "b" stands for "burgers."
The announcement sent thousands of social media users into a frenzy of speculation and debate. Many had been wondering since the week before what the "b" could possibly stand for. Once it was revealed as "burgers," some began to fear that IHOP was turning away from its established reputation as a breakfast chain. But whether their discussions were positive or negative, users on Twitter kept the new name "IHOb" trending throughout the day. "We thought that people would have fun with this, but never did we imagine that it would grab the attention of America the way it did," said company spokesperson Stephanie Peterson.
Of course, one fact that the social media chatter often failed to convey was that the switch to IHOb is temporary. The company thought of the idea when it hired a marketing firm that pitched a campaign focused on "pancakes, pancakes, pancakes," according to IHOP's chief marketing officer Brad Haley. "So we said that's great, we agree with that approach obviously and we subsequently hired them. But we said, there will come times when we want to promote something other than pancakes. They came back with the idea of IHOb," said Haley. While the company intended to promote its new line of Ultimate Steakburgers with this stunt, it's possible that most of the chatter it generated came from people confused by the name change. Nevertheless, the campaign caused many people who weren't previously thinking about IHOP to talk about the chain, which is a key goal of any successful promotion.  
Questions:
Do you think the "IHOb" promotion was a success? Why or why not?
Why is it risky for companies to alter their brand names?
Source: Jonah Engel Bromwich, "IHOP Promotes Burgers by 'Changing' Name to IHOb, Gets Reaction," The New York Times, June 11, 2018.