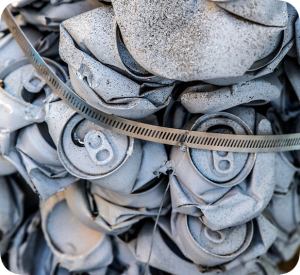 In 1903, the Milwaukee-based Miller Brewing Company launched Miller High Life, dubbing its then-signature brand "the Champagne of Bottle Beer." Not much has changed about it more than a century later, except in the 1960s the company shortened its slogan to "Champagne of Beers" and included the saying in the brand's logo. But while Miller's famous catchphrase may seem inoffensive enough to most Americans, that view is not shared by the Comité Champagne. This French trade organization determines which products are allowed to be called Champagne, and Miller High Life does not qualify.
In normal circumstances, the Comité Champagne would have no reason to worry about potential violations since Miller High Life is not sold in Europe. A few weeks ago, though, a buyer in Germany attempted to import more than 2,300 cans. But the shipment didn't make it past the Belgian port of Antwerp, where customs officials seized the beer upon the request of the Comité Champagne. According to French law, only sparkling wines produced in the Champagne region of France are permitted to bear the name on their labels. As a result, authorities destroyed the beer with "the utmost respect for environmental concerns by ensuring that the entire batch, both contents and container, was recycled in an environmentally responsible manner."
Neither the buyer in Germany nor Miller contested the decision. "Of course, we respect local restrictions around the word 'champagne,' but we remain proud of Miller High Life, its nickname and its Milwaukee, Wisconsin, provenance," said Miller in a statement. "We invite our friends in Europe to the U.S. any time to toast the High Life together." Many countries in the European Union have laws that restrict how food and beverages can be labeled, protecting a heritage market of artisanal food, wine, and spirits worth more than $87 billion annually. In Switzerland, for instance, authorities recently ordered Toblerone to remove the iconic mountain Matterhorn from its label after the company moved some of its chocolate production outside of the Alpine nation.
Questions:
Why did European customs officials destroy thousands of cans of Miller High Life?
What do you think are some advantages and disadvantages of European laws that place strong restrictions on food and beverage labels?
Sources: Samuel Petrequin, "'The Champagne of Beers' Leaves French Producers Frothing," Associated Press, April 22, 2023; Joseph Pisani, "Miller High Life Cans Destroyed in Europe Over 'Champagne of Beers' Logo," The Wall Street Journal, April 21, 2023.