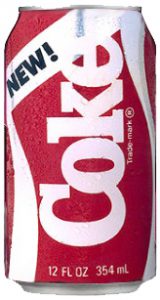 In the 1980s Coca-Cola was losing market share to its rival Pepsi at an alarming rate. Blind taste tests performed by Coke even showed that consumers seemed to prefer Pepsi's sweeter flavor. So in 1985 the Atlanta-based company scrapped its classic formula in favor of a sugary but smooth cola that came to be known as "New Coke." The change shocked soda lovers across the country, prompting boycotts and letter-writing campaigns that did significant damage to Coke's brand image. After three months of uproar, the company reintroduced the original formula as Coca-Cola Classic and eventually named the new flavor Coke II.
Since then, this fiasco has stood as warning to companies about the dangers of tinkering with beloved products. New Coke never did catch on with the public and was discontinued in 2002 seemingly for good. But then a few weeks ago the company announced that a limited supply of New Coke would be made available online and in some vending machines. Rather than replacing its flagship flavor, however, this time the sweeter drink will be part of a marketing campaign for the hit Netflix show Stranger Things.
Set in the eighties and heavily inspired by the era's pop culture, Stranger Things has featured brands like Eggo waffles and Kentucky Fried Chicken in prominent roles. So with the current season of the sci-fi series taking placing in the summer of 1985, the show's writers knew they had to fit in New Coke as well. "It would have been more bizarre to not include it," said Stranger Things creators the Duffer Brothers. Once Netflix's marketing team heard about this, they quickly contacted Coca-Cola about reviving its most infamous soft drink. The company agreed and soon started to dig through its archives for the New Coke recipe. All told about 500,000 cans of the soda will be available during the summer in the lead up to the the new Stranger Things season. Netflix has also partnered with companies like Baskin Robbins and H&M to promote the series with similar nostalgia-based campaigns.
Questions:
Why was the debut of New Coke such a disaster for Coca-Cola?
Do you think consumers will actually want to buy New Coke during the Stranger Things promotional campaign? Why or why not?
Source: John Koblin, "New Coke Was a Debacle. It's Coming Back. Blame 'Stranger Things,'" The New York Times, May 21, 2019. Photo by Jetijonez.