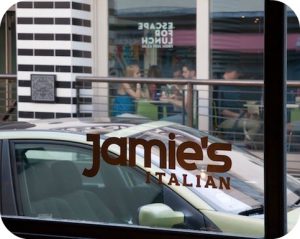 For more than a decade, the British chef Jamie Oliver has been world famous for his global empire of restaurants and campaigns against junk food. But while he remains committed to using his platform to promote healthy eating, his name doesn't appear to hold the same branding power as it once did. A few weeks ago, the celebrity chef announced that 22 of his 25 U.K. eateries would close after the Jamie Oliver Restaurant Group filed for bankruptcy protection. Although his international locations will remain open, the collapse of Oliver's British restaurants will likely result in the loss of about 1,000 jobs.
Of course, Jamie Oliver isn't the only celebrity chef who's struggling to maintain an empire in the constantly changing restaurant business. Earlier this year Food Network stars Bobby Flay and Guy Fieri both closed their Midtown Manhattan eateries while Gordon Ramsay shuttered one of his flagship restaurants in London last year. Tastes also appear to be changing in Las Vegas, which in recent years has grown into a fine dining destination. For instance, the upscale Cosmopolitan resort now features casual chains such as District Donuts from New Orleans and Hattie B's Hot Chicken from Nashville. While the luxury hotel still boasts top-flight restaurants from internationally acclaimed chefs, these new additions show that guests are looking for quick and low-priced options as well.
According to experts, many celebrity chefs find it difficult to produce high-quality food across multiple locations. "At some point you're going to hire the wrong chef, and you're not there to supervise," said restaurant consultant Malcolm Knapp. "People expect to get the master's touch, and they're not getting it." Celebrity-branded restaurants also face much more competition than when restaurants like Oliver's launched in the early 2000s. Along with an increasing number of casual chains, today's diners can also choose between plenty of local restaurants. A number of fast food companies have switched to using fresh ingredients as well, presenting eaters with even more options.
Questions:
Why do many celebrity chefs find it difficult to maintain high quality standards across multiple locations?
How are upscale Las Vegas resorts like the Cosmopolitan responding to changing consumer tastes?
Sources: Christopher Palmeri, "The Twilight of the Celebrity Chef," Bloomberg BusinessWeek, August 8, 2018; Julia Horowitz, "Celebrity Chef Jamie Oliver's Restaurant Chain Collapses," CNN, May 21, 2019.