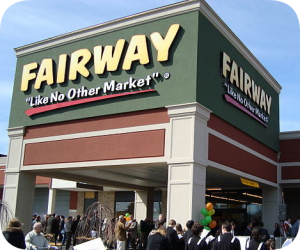 In 1933 Nathan Glickberg opened a fruit and vegetable stand in Manhattan before eventually moving into a nearby storefront. His grandson Howie expanded the store in the 1970s, adding more groceries and specialty items as well as a new name: Fairway. In the years since, the store became a staple for many New Yorkers drawn by Fairway's low prices and wide selection of quality products. Then in the early 2000s a private equity firm bought a controlling stake in the company and started to expand. Not only did this overload Fairway with debt, but it also struggled to compete against growing national brands like Trader Joe's and Whole Foods.
Fairway declared bankruptcy in 2016 as it looked to offload some of its debt and close underperforming locations. In the years since the company tried to reestablish its position as a classic New York grocery store. Fairway had locations in some of the most desirable neighborhoods in the most densely populated city in the U.S., a huge advantage over other brands. At the same time, its rival Trader Joe's had only grown larger over the years while Whole Foods slashed prices after its takeover by Amazon. "It's not a level playing field," said Fairway CEO Abel Porter. "Competing against Amazon is like competing against the government or a military commissary."
With sales stagnating and debt still looming over its head, this week Fairway announced that it would once again file for bankruptcy protection. "After careful consideration of all alternatives, we have concluded that a court-supervised sale process is the best way to meet our objectives of preserving as many jobs as possible, maximizing value for our stakeholders, and positioning Fairway for long-term success under new ownership," said Porter. Fairway will likely sell its stores outside of New York while focusing on its locations within the heart of the city, which earn more money per square foot than any other chain in New York. But the crushing debt from its 2000s private equity takeover and stiff competition from its rivals could continue to haunt Fairway as it tries to rebuild its brand.
Questions:
How did Fairway change after its takeover by a public equity firm?
Do you think small chains like Fairway can compete against national brands like Trader Joe's and Whole Foods? Why or why not?
Source: Jeremy Hill, "Fairway Returns to Bankruptcy With Plans to Sell Five Stores," Bloomberg, January 22, 2020; Azi Paybarah, Andrea Salcedo, Matthew Haag and Amie Tsang, "Fairway Market Files for Bankruptcy Protection," The New York Times, January 22, 2020. Photo by Meverbeaver.