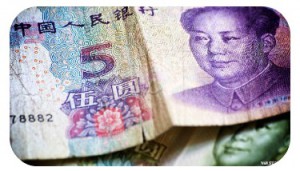 While the holiday shopping season in the U.S. doesn't officially kick off until next week, Chinese retailers are already counting their profits from the phenomenon known as Singles Day. Founded in the 1990s by a group of college students celebrating their bachelorhood, the November 11 holiday has since morphed into a nationwide shopping spree. This year the online retailer Alibaba brought in nearly $18 billion in sales, far more than what the entire American retail industry earns during Black Friday or Cyber Monday.
Alibaba CEO Jack Ma pioneered the event in 2009 when his site began offering deep discounts on Singles Day. He's since turned the holiday into a massive marketing event: this year's kickoff party was held in a stadium and included appearances by celebrities like David Beckham, Scarlett Johansson, and Kobe Bryant. After this star-studded ceremony, the company spent the next 24 hours keeping track of its sales on a jumbotron. Not only does this spectacle boost Alibaba's brand, it also improves the overall image of the Chinese economy. Although growth has slowed in the Asian nation in recent years, its consumer economy remains robust, with retail sales rising 10 percent in the month before Singles Day.
Still, some experts have doubts about the validity of Alibaba's data. Critics contend that the company's massive Singles Day sales are inflated by orders that never ship or are quickly cancelled. As a result, regulators in China as well as the U.S. are investigating Alibaba for irregularities. Regardless of what these watchdogs turn up, private consumption is expected to continue rising by an average of 5.5 percent until 2030. While this rate outpaces the overall growth of the Chinese economy, the nation's middle class will likely remain ready and willing to buy.
Questions:
Do you think Singles Day could become part of the American holiday season sometime in the future?
Why would Alibaba inflate their Singles Day sales figures?
Source: Eva Dou, "Swinging Singles' Day: Alibaba Holiday Drives Shoppers in China," The Wall Street Journal, November 11, 2016; "Alibaba Tops Singles' Day Record as Chinese Consumers Rally," Bloomberg, November 10, 2016. Photo by David Steadman.