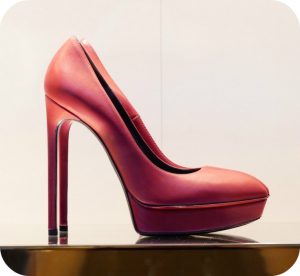 Last week, a crowd of Los Angeles fashion influencers and curious shoppers attended the opening of what they thought would be a new luxury shoe retailer. Surrounded by stilettos on pedestals and golden sneakers, the onlookers marveled at the work of an Italian designer named Bruno Palessi. "I would pay $400, $500. People are going to be like, 'Where did you get those? Those are amazing,'" said a woman as she tried on a pair of leopard print tennis shoes. Even with prices running as high as $1,800, a number of people still happily reached for their wallets and tried to purchase some fancy footwear.
Instead of heading to a checkout counter, though, sales associates led customers to a back room where they learned the truth about the store: Bruno Palessi did not exist, and all of "his" shoes on display actually came from Payless ShoeSource. "You've got to be kidding me," said another woman who was ready to spend hundreds of dollars on a pair of floral stilettos. Customers ended up receiving their shoes for free in the hopes that they'd spread the word about the company's prank. And soon enough news about the Payless stunt went viral as even fashion industry insiders admitted that they had been duped. "We wouldn't have ever known. We were really convinced," said Los Angeles diamond designer Cat Chang. "They had us fooled, like completely."
The marketing team behind the promotion focused on fine details in order to make the Bruno Palessi brand as convincing as possible. They decided to host the launch party in a former Giorgio Armani store in an upscale LA mall and hired an interior designer to make the space look luxurious. They also created a website and Instagram page that reflected the brand's high-end approach. While this combination of elements certainly helped the company's stunt succeed, only time will tell if this will translate into increased sales. For now, though, the Payless promotion serves as a prime example of how packaging can completely change a product. "The way that we evaluate things is through associations. If you put wine in a nice bottle, people like it more. If you package things up to look more premium, people will like it more," said consumer behavior consultant Philip Graves. "If advertising has high production qualities, people will think it's better."
Questions:
Do you think this marketing stunt will lead to increased sales at Payless in the long term? Why or why not?
How does packaging affect a consumer's perception of a product?
Source: Kristine Phillips, "'They Had Us Fooled': Inside Payless's Elaborate Prank to Dupe People Into Paying $600 for Shoes," The Washington Post, November 30, 2018.