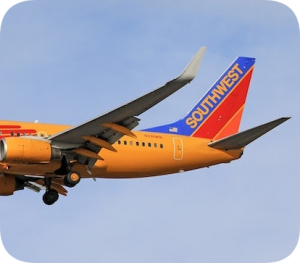 The end of December is one of the busiest travel times of the year as people rush back and forth from home for the holidays. For travelers who booked trips on Southwest Airlines, though, the season was even more stressful as the carrier canceled more than 13,000 flights in less than a week. The trouble started when a major winter storm swept the country and prevented many pilots and flight attendants from working. Southwest staff usually solve this problem by logging on to SkySolver, a system that manages scheduling and availability throughout the company. This time, however, SkySolver became overwhelmed by users and crashed, forcing Southwest crew schedulers to look through records by hand for available staff.
This internal debacle soon turned into a nationwide meltdown as the company scrambled to find pilots and attendants for flights. Unable to assign staff in time, Southwest canceled flight after flight in a catastrophe that cascaded through airports around the country. "There just was not enough time in the day for them to work through the manual solutions," said Southwest's Chief Operating Officer Andrew Watterson. The airline canceled 8,000 flights in the days leading up to Christmas, amounting to 63 percent of its scheduled trips. Not only did thousands of travelers watch their holiday plans crumble to dust, but many others also had to deal with lost luggage that took days to retrieve. Although other air carriers canceled up to 20 percent of their flights because of the storm, no other company's chaos compared to Southwest as it struggled to manually schedule employees.
Southwest's pilots union has long complained about the reliability of SkySolver, which often produces confusing solutions that are both inefficient and inconvenient. For instance, the system will frequently send crew members on journeys as passengers around the country to meet up with flights, which is known as "deadheading." In one instance during the storm, SkySolver instructed a pilot to deadhead a flight from Maryland to New Hampshire and then back again the next day, all without ever flying a plane himself. "The company has had its head buried in the sand when it comes to its operational processes and IT," said Casey Murray, president of the Southwest Airlines Pilots Association labor union. Along with upsetting its employees, Southwest has also tested the patience of its famously loyal customer base, which may not look at the company in the same light after this disaster. The company will try to buy back some consumers' loyalty with refunds and frequent flier points, but only time will tell if this will be enough to repair Southwest's damaged reputation.
Questions:
Why did Southwest Airlines cancel more than 13,000 flights at the end of December?
Do you think Southwest Airlines will be able to win back the trust of its customers after this disaster? What should the company do to earn back consumers' trust?
Sources: Alison Sider, "How Southwest Airlines Melted Down," The Wall Street Journal, December 28, 2022; Alison Sider, "Southwest CEO Says More Cancellations Ahead as Airline Tries to Recover," The Wall Street Journal, December 27, 2022.