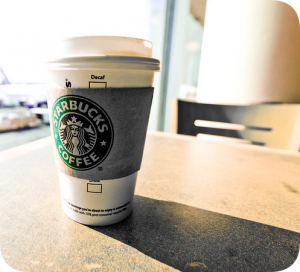 Before the pandemic, Starbucks cafes across the country bustled with people grabbing all sorts of caffeinated beverages before work. With millions of Americans now telecommuting, however, these once crowded coffee houses are not nearly as busy as they used to be. As a result, last week Starbucks announced that it would close hundreds of locations across North America and shift its focus to takeout orders.
"This repositioning will include the closure of up to 400 company-operated stores over the next 18 months in conjunction with the opening, over time, of a greater number of new, repositioned stores in different locations and with innovative store formats," wrote Starbucks in a recent filing with the Securities and Exchange Commission. Some of these new stores will be pick-up only operations that the company had been planning to create even before the coronavirus. In fact, Starbucks says that 80 percent of sales across more than 15,000 locations came from "on-the-go" purchases.
"We were already thinking about what does that future state look like in those metro areas?" said a Starbucks spokesperson. "Covid-19 has actually allowed us to accelerate the plans we already had on the books. Our vision is that each large city in the US will ultimately have a mix of traditional Starbucks cafés and Starbucks Pickup locations." The chain's goal is to restore sales to something resembling their pre-pandemic levels, but it has a long way to go before things return back to normal. Although Starbucks has reopened 95 percent of its locations, same-store sales dropped by 43 percent in May compared to last year. 
Questions:
Why will Starbucks close up to 400 locations over the next 18 months?
Do you think Starbucks' decision to focus on takeout orders will return sales to pre-pandemic levels? Why or why not?
Source: Chauncey Alcorn, "Starbucks is Closing Up to 400 Stores and Expanding Takeout Options," CNN, June 11, 2020. Photo by Nicola.