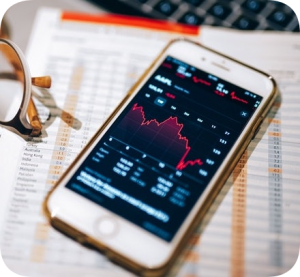 Share prices plummeted across all three major stock indexes last Friday, wrapping up a terrible month that brought markets to their lowest levels since the start of the pandemic. On that single day, the Dow Jones Industrial Average fell 939 points while the S&P 500 dropped 155 points, amounting to respective contractions of 2.8 percent and 3.6 percent. Worst of all was the Nasdaq, which shrank by 4.2 percent after dropping 536 points. 
The numbers look even worse when the entire month is taken into consideration: the S&P contracted by nearly 9 percent during April while the Nasdaq fell 13 percent. This marks the latter's lowest point since the start of the pandemic and the S&P's worst start to a year since World War II. Tech stocks have largely driven this massive sell-off as shares in Amazon, Intel, and Alphabet (parent company of Google) dropped big last month. No one has had a worse time than Netflix, though, which saw shares nosedive by 49 percent since the start of April. Not only have companies like Amazon and Netflix recently experienced decreases in revenue, but they must also contend with volatility brought on by rising inflation, the war in Ukraine, and the ongoing pandemic.
"The markets finally faced up to economic and geopolitical reality: all is not well," said financial analyst George Ball. Corporations are also concerned about the Federal Reserve's plans to raise interest rates, especially since low-interest loans have long served as the bedrock of many tech ventures. Still, not all companies are struggling in the current environment: consumer staples brands like Coca-Cola, Procter & Gamble, Hershey, and Kraft Heinz all saw their shares rise by at least 4 percent in April. In fact, 90 percent of companies in the consumer-staples group saw their profits exceed analysts' expectations. "The boring, slow-growth, high-quality companies are doing well," said wealth management advisor Louise Goudy Willmering. "Those kinds of things which were not as appealing and sexy in the tech bonanza of the pandemic have been continuing to grow."
Questions:
Why did the three major stock indexes collapse in value during April 2022?
Why do you think consumer-staple companies like Coca-Cola, Kraft Heinz, and Procter & Gamble are performing well as tech companies struggle? 
Sources: Jacob Bogage and Aaron Gregg, "Dow Sinks 900 Points, as S&p 500, Nasdaq Post Worst Month Since March 2020," The Washington Post, April 29, 2022; Karen Langley, "Consumer-Staples Stocks Take Their Turn in Limelight," The Wall Street Journal, May 2, 2022.