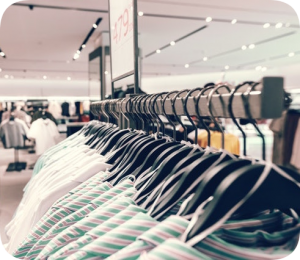 In the days before e-commerce, department stores like Macy's and J.C. Penney were the ultimate shopping destinations for millions of consumers. But with Amazon now dominating much of the retail world, these companies can no longer attract the same crowds as they did in their glory days. While Macy's recently fell far short of its second quarter sales estimates, J. C. Penney has lost a total of $101 million so far in 2019. 
In order to make up for years of lost revenue, both retailers have teamed up with the clothing resale company ThredUp to sell second-hand apparel. Analysts at Macy's say the partnership will help the company reach young consumers who are especially interested in used options. "We know many consumers are passionate about sustainable fashion and shopping resale," said Macy's CEO Jeff Gennette. "This partnership gives us the opportunity to reach a new customer and keep them coming back to shop an ever-changing selection of styles, and brands, that we don't typically carry."
Macy's announced that used clothing will be available at 40 stores while J. C. Penney will test out the concept at 30 locations. Along with its ThredUp partnership, Macy's has also recently hired a startup that helps retailers develop rental services. In fact, clothing companies like Express, American Eagle, and Urban Outfitters have all recently launched subscription or rental programs. These established retailers are looking to build off the success of startups like StickFix and Rent the Runway that offer curated clothing boxes or affordable rental options. Still, only time will tell if these measures can help brick-and-mortar retailers compete with e-commerce outlets. 
Questions:
What sort of consumers are Macy's and J. C. Penney hoping to reach by partnering with ThredUp to sell used clothing?
Do you think that second-hand clothing or rental options will help retailers like Macy's compete against e-commerce outlets? Why or why not?
Sources: Lauren Thomas, "Macy's is Getting Into the Clothing Subscription and Resale Businesses," CNBC, August 14, 2019; Suzanne Kapner and Micah Maidenberg, "J.C. Penney Branches Into Used Apparel as Sales Tumble," The Wall Street Journal, August 15, 2019.