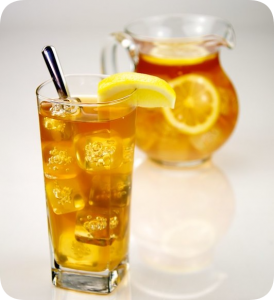 As companies continue to face climbing costs, many businesses are responding by either raising prices themselves or reducing the size of their product offerings. But there's at least one company who hasn't surrendered to the effects of inflation: 23-ounce cans of AriZona iced tea remain 99 cents, the same price as when they hit the market 30 years ago. So is AriZona somehow immune to recent price increases? Not in the least, considering that the cost of aluminum has doubled over the last year, high-fructose corn syrup has tripled in price since 2000, and gas prices have sent delivery costs soaring. 
So what exactly is AriZona's secret? In short, the company is simply making less money. According to founder and chairman Don Vultaggio, he prefers to keep the price consistent rather than pile on another additional cost to consumers. "I'm committed to that 99-cent price — when things go against you, you tighten your belt," said Vultaggio. "I don't want to do what the bread guys and the gas guys and everybody else are doing. Consumers don't need another price increase from a guy like me." He's able to make this decision because AriZona is one of the few private companies operating in the beverage market, with most of the industry dominated by corporations like PepsiCo, Coca-Cola, and Keurig Dr Pepper. 
AriZona sells about 1 billion cans of 99-cent iced tea annually, accounting for 25 percent of its revenue. Snapple also sold its iced tea for the same price when AriZona first launched, but now Snapple's bottles run for $1.79. By keeping prices low and consistent like AriZona, companies can establish a sense of trust with consumers that lasts for years. "It's like a price-matching guarantee," said Haipeng (Allan) Chen, marketing professor at the University of Kentucky. "It says: trust me, I'll take care of you, I'm not charging a horrendous price." That's also how Vultaggio sees AriZona's mission, providing for customers by giving them something they can depend on. "Your company has to deal with cost increases, but your customers have to deal with cost increases too," he said. "And if you break their back, nobody wins."
Questions:
Why has AriZona kept the price of their iced tea consistently at 99 cents for the last 30 years?
Do you think more companies should follow AriZona's lead and maintain low prices even as inflation rises? Why or why not?
Source: Sam Dean, "As Inflation Soars, How Is AriZona Iced Tea Still 99 Cents?," Los Angeles Times, April 12, 2022. Photo by TheCulinaryGeek.