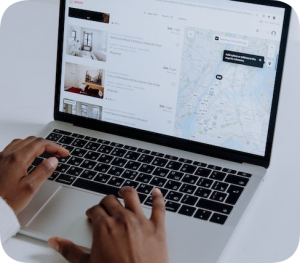 When Airbnb launched in 2008, the short-term rental company marketed itself as an easy alternative to hotels that had supposedly become too restrictive for the modern traveler. 14 years after its founding, however, many guests are heading back to hotels because of extensive cleaning requirements from Airbnb hosts. For example, teacher Christina Marie recently booked a short-term rental house on Lake Tahoe with her family of six. She spent the last day of her vacation cleaning and ensuring that her kids did not make any fresh messes. "You don't want to wake up at 6 a.m. to do chores when you're on vacation," said Marie. "This kind of changes the whole vibe. It's stressful."
Demand for Airbnb remains high as travel volume returns to pre-pandemic levels, giving hosts leverage to charge more per night along with hefty cleaning fees. To avoid extra charges, most guests spend their final days doing dishes, washing sheets, and other tasks usually performed by cleaning staff in hotels. Still, sometimes such fees cannot be avoided, like when Necole Kane found out upon arrival that her Airbnb came with both a $375 cleaning fee and a long list of chores. Although the large amount of housework made Kane's trip noticeably worse, she still did not leave a negative review. Guests like these fear that rating lower than five stars or failing to do their required chores could lead to a drop in their own Airbnb status, making them look risky to future hosts.
The high demand for travel coupled with the danger of bad reviews has allowed many Airbnb hosts to demand whatever they want from guests, even feeding farm animals and mowing lawns. Still, some property owners are not fans of this trend. Deric Tikotsky, for instance, runs several rentals in Fort Lauderdale where he encourages guests to relax and leave everything as-is when they check out. "This chore business is giving us a bad rep and causing guests to flee to hotels," said Tikotsky. In fact, the international hotel chain Hilton recently made a commercial poking fun at overly restrictive Airbnbs, depicting a family entering an eerie home with a long list of rules written on the wall like "no sandwiches" and "no whistling." Airbnb is also getting plenty of bad press on TikTok, where disgruntled users are posting about expensive rooms and tiring chores before announcing that they're booking a hotel for their next trip. 
Questions:
Why do many Airbnb hosts either charge cleaning fees or require guests to perform chores before they check out?
Do you think continuing to demand chores from guests will hurt Airbnb's business in the long run? Why or why not?
Source: Preetika Rana, "Welcome to Your Airbnb, the Cleaning Fees Are $143 and You'll Still Have to Wash the Linens," The Wall Street Journal, September 16, 2022.