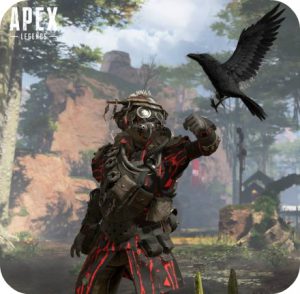 Since launching in late 2017 Fortnite has earned more than $2.4 billion, a staggering amount of revenue for a video game that is free for anyone to play. The battle royale title makes its money from virtual items like special outfits or victory dances that players can purchase from an in-game store. Given the breakout success of this business model, companies throughout the more than $100 billion video game industry have been scrambling to develop a credible Fortnite competitor.
In fact, Electronic Arts just might have one on its hands with Apex Legends, a shooter game that follows a similar battle royale format as Fortnite. But while the latter is driven by a goofy and offbeat style, Apex Legends features a more serious, futuristic tone along with a stronger focus on teamwork. This familiar gameplay format mixed with some key differences have helped turn Apex Legends into an instant success. The game reached the 25 million player mark a week after its launch, a milestone that took Fortnite more than a month to achieve. Rather than rely on a traditional marketing campaign, EA recruited hugely popular Fortnite streamers like Tyler "Ninja" Blevins to play Apex Legends when it launched. Along with instantly capturing the attention of millions of gamers, this strategy also helped the game become the most played title on the streaming video platform Twitch.
Of course, Apex Legends has a long way to go before it can match Fortnite's massive collection of more than 200 million players. According to analysts, though, video game companies are betting on titles like these to sustain the industry in the years to come. Rather than charge consumers $60 for the latest release, publishers are now looking to develop games that can bring in a steady stream of revenue over the long-term. For instance, Take Two earns $400 million annually from Grand Theft Auto V's online multiplayer format, not bad for a game that came out in 2013. Meanwhile, that same company recently saw its stock price drop after investors began to have doubts about the long-term revenue potential of Red Dead Redemption 2. Despite selling millions of copies shortly after its release, this blockbuster title has had trouble building a fanbase for its online play. While this might not have been much of a problem for Take Two in the past, it's a sign of trouble in today's multiplayer-focused video game industry.
Questions:
Rather than rely on a traditional marketing campaign, how did Electronic Arts make gamers aware of the release of Apex Legends?
Why are video game companies starting to place more focus on online multiplayer games like Apex Legends and Fortnite?
Source: Dan Gallagher, "'Fortnite' Effect: The Game Never Ends," The Wall Street Journal, February 15, 2019; Sarah E. Needleman, "'Apex Legends' Is EA's Move to Out-Fortnite 'Fortnite,'" The Wall Street Journal, February 23, 2019.