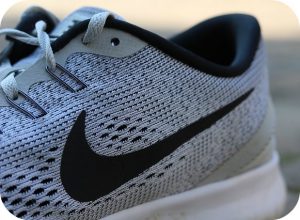 On Wednesday night, two of the biggest teams in college basketball faced off in what many described as the game of the season. While Duke versus North Carolina is always a marquee matchup, this particular game had another unmissable element added to it: freshman forward Zion Williamson. With his remarkable combination of size and speed, basketball analysts almost unanimously agree that he is the favorite to be picked first in the NBA draft this summer. Unfortunately, Williamson's night in the spotlight didn't go exactly as planned. 30 seconds into the game, the Duke star brought his left foot down onto the hardwood and his Nike shoe ripped in half. Williamson collapsed and exited the game with a knee sprain that will leave him sidelined for one to two weeks.
The clip of Williamson's injury immediately went viral and sparked thousands of conversations across social media about the split shoe. The next day Nike's stock dropped more than 1 percent, wiping out about $1 billion in value. Although the company issued a statement describing the torn sneaker as "an isolated occurrence," some experts fear it could point to larger problems of quality at Nike. "I think it's a product failure," said James Gilbert, an orthopedic surgeon who has previously worked in Duke's athletics department. "I've never seen that. I had no idea that that happens." Despite all the bad press, business analysts doubt it will do any long term damage to a business as large as Nike.
One matter that is less predictable, though, is how this incident will affect the public's perception of NCAA basketball. Unlike past superstars like Kobe Bryant and Lebron James, a 2006 rule prevents today's players from joining the NBA straight out of high school. That means players like Williamson must risk injury in the NCAA for at least a year with few rewards except for the chance to be drafted into the pros. Meanwhile, colleges earn tens of millions from contracts with television broadcasters and shoe companies. For instance, Nike has a deal with North Carolina that gives the university more than $90 million over the course of a decade, including a $300,000 annual contract for coach Roy Williams. In fact, last year Nike spent more than $11.5 billion on marketing and endorsement contracts, accounting for a third of its sales. So to many observers, the question going forward is whether or not college stars like Williamson deserve a piece of that pie as well.
Questions:
Do you think this torn shoe incident will have any long term effects on Nike's reputation? Why or why not?
Should NCAA players be able to strike their own endorsement deals with companies like Nike? Why or why not?
Sources: Marc Tracy and Kevin Draper, "A Star's Shoe Breaks, Putting College Basketball Under a Microscope," The New York Times, February 21, 2019; Nathaniel Meyersohn, "Nike's Stock Falls After Duke Star Is Hurt as His Sneaker Comes Apart," CNN, February 21, 2019.