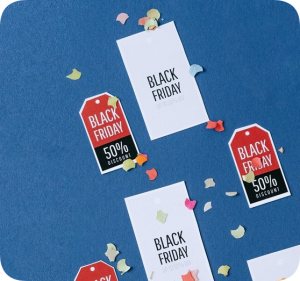 In years past, the day after Thanksgiving marked a singular bonanza of sales as retailers held literal "door-buster" events that attracted crowds of determined customers desperate for deals. The rise of e-commerce gradually changed the holiday sales game, however, with companies now largely opting to spread sales throughout the season rather than concentrating on one day or weekend. As a result, this year's Black Friday and Cyber Monday sales slowed down for the first time in history while overall retail sales in November increased significantly. 
Black Friday sales dipped slightly from their 2020 totals of more than $9 billion, with this year's tally resting just below at $8.9 billion. Sales on Cyber Monday took a more noticeable nosedive, dropping 1.4 percent from last year to $10.7 billion. Throughout the entire month of November, however, consumers spent a whopping $109.8 billion online, an improvement of nearly 12 percent from last year. Analysts at Adobe predict the online shopping spree will continue through December and could total as much as $207 billion by the end of the season. 
Amazon started offering deals in October and has not stopped since, a trend that experts say has diminished the impact of major shopping days. "With early deals in October, consumers were not waiting around for discounts on big shopping days like Cyber Monday and Black Friday," said Adobe Digital Insights director Taylor Schreiner. Pandemic-experienced Americans also have fewer reasons to visit brick-and-mortar retailers, with Black Friday traffic at physical stores up nearly 50 percent compared to last year but still down 28 percent from 2019. Nevertheless, rising e-commerce sales have representatives from the National Retail Federation expecting "a bright, successful and joyous holiday season."
Questions:
Why have Black Friday and Cyber Monday become less important for retailers in recent years? 
What are the advantages and disadvantages of concentrating on extended sales periods rather than major sales events like Black Friday?
Source: Lauren Thomas, "Cyber Monday Online Sales Drop 1.4% From Last Year to $10.7 Billion, Falling for the First Time Ever," CNBC, November 30, 2021.