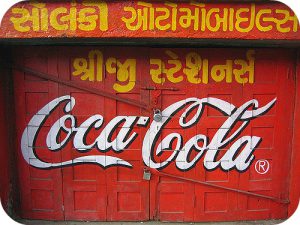 For more than a century, Coca-Cola's immense branding power has centered on its signature soft drink. But with many of today's consumers switching from sugary sodas to healthier options, the company can no longer rely on its namesake beverage like it once did. So in order to keep up with changing tastes, last year Coca-Cola launched more than 500 new drink brands across the globe. "There are products out there in the world that perhaps we wouldn't have tried a few years ago," said Coca-Cola CEO James Quincey.
Among these new items is Mazza Chunky, an Indian fruit juice that includes hunks of mango. Coca-Cola researchers thought of the idea when they noticed that many people in the country liked to drink mango pulp straight from the fruit. Keeping an eye on local trends also led to products like a sesame-and-walnut drink from China as well as a Brazilian line of whey shakes. Overall, Coca-Cola has launched 25 percent more brands than it did in 2017 by paying close attention to the demands of local consumers. "We have this mandate now to go create products and businesses which are much more in tune with the local needs," said Shehnaz Gil, a Coca-Cola executive working in India. "It's part sommelier, part science."
The company has also sped up its research and development efforts as it strives to get new products onto the market quickly. For instance, in the past Coca-Cola used to spend at least a year developing a product before it launched. These days, though, the company can finish the process in as little as four months. Along with launching new products, Coca-Cola also plans to eliminate a number of underperforming brands. The company hopes these strategies will combine to create a solid line of products that can keep Coca-Cola at the top. "We're not betting the ranch on every idea until it's proven to have some traction," said Quincey. "I think we see more innovation in the marketplace…but just as importantly, a focus on removing the things that don't work."
Questions:
Why is Coca-Cola expanding its product line to include drinks besides soda?
How do Coca-Cola's research and development teams come up with ideas for new products in global markets?
Source: Eric Bellman and Jennifer Maloney, "Coca-Cola Launched 500 Drinks Last Year. Most Taste Nothing Like Coke," The Wall Street Journal, August 23, 2018. Photo by Meena Kadri.