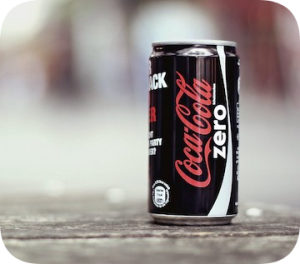 In the coming months, regular drinkers of the sugar-free soda brand Coke Zero might notice a slight change in the taste of their favorite beverage. According to company officials, the formula for Coke Zero will be altered in order to "deliver an even more iconic Coke taste." While this might seem like a relatively harmless change, any alteration to a Coca-Cola product draws plenty of public scrutiny after the company's disastrous launch of "New Coke" in the 1980s.
Back then, Coca-Cola had been rapidly losing market share to Pepsi-Co and its assortment of sugary beverages. In response, Coke tinkered with its classic formula to create a sweeter concoction that the company hoped would appeal to a wide variety of consumers. Instead, longtime customers and media outlets roundly slammed New Coke as a "taste tragedy" while Pepsi called the beverage "a tremendous opportunity for us." The company quickly reversed course and went back to the old recipe, but their mistake stood as a cautionary tale in the business world for decades to come.
That's why Coca-Cola now proceeds with caution whenever it makes any changes to its products. In this case, the company posted on social media about how the new Coke Zero could have a different color but would continue to use the same ingredients as before. Coca-Cola also reassured customers that the new formula "optimizes existing Coca-Cola Zero Sugar flavors and existing ingredients" without the fattening sweeteners of its flagship brand. "This is a strategy where Coke is trying to stay ahead of the market," said Doug Bowman, marketing professor at Emory University. "It is hard to see anyone except the most die-hard Coke Zero Sugar people noticing the difference." 
Questions:
Why did Coca-Cola face such heavy criticism when it debuted New Coke in the 1980s?
How has Coca-Cola tried to stay ahead of the market before the launch of its new Coke Zero formula?
Source: Maria Cramer, "Coca-Cola Is Changing the Flavor of a Soda. Again," The New York Times, July 14, 2021. Photo by Robin Geschonneck.