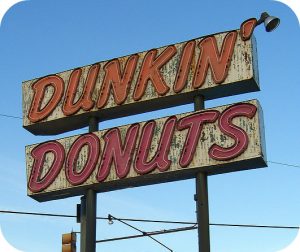 During the summer, we looked at IHOP's temporary name change to "IHOb" and the social media sensation that followed their announcement. As it turns out, the pancake chain wasn't the only company experimenting with their branding around that time. In August, Dunkin' Donuts dropped the second word out of their name at a number of locations in the Boston area. While some customers went online to vent their frustration about the change, many others apparently didn't mind that the word "Donuts" had disappeared from the chain's signage.
In fact, the test run of this rebranding effort went so well that the company recently announced that all of its American locations will soon be known simply as "Dunkin'." This move may seem astonishing to people who remember the chain's inescapable ad campaign from the 1980s that centered on the phrase, "Time to make the donuts." But consumer tastes have changed considerably in the decades since then. While sugary treats like donuts have fallen out of favor, more people are buying their coffee from chains like Starbucks. Dunkin' has benefited from this trend considerably, with the company's coffee sales outpacing donut sales for years now.
Still, the chain isn't dropping donuts entirely from their business model. Although Dunkin' will continue make dozens of fresh donuts every day, they won't receive as much attention in the company's marketing campaigns. Instead, Dunkin' executives have chosen to focus more on coffee as well as hot food options like breakfast sandwiches. The company is also updating the infrastructure in many of its stores. Along with touchscreen kiosks, new Dunkin' locations will also include draft systems that allow customers to order cold drinks on tap. The chain hopes that these changes will make the brand more appealing to young consumers on the hunt for a quick breakfast and caffeine fix.
Questions:
Why is Dunkin' choosing to focus more on selling coffee rather than donuts?
Do you think it's a good idea for Dunkin' to drop the "Donuts" from their brand name? Why or why not?
Sources: "Just Dunkin': Dunkin' Donuts to Change Its Name," Associated Press, September 25, 2018; Jessica Tyler, "We Visited Dunkin' Donuts' 'Store of the Future' in NYC — Here's What It Was Like," Business Insider, September 25, 2018. Photo by Walknboston.