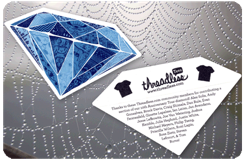 Engaging with customers through social media has become an essential part of doing business in this digital age. But in many cases, it's not what companies say on social networks that connect with consumers; it's what they show. A recent study of the top brand pages on Facebook found that photos gather more than twice the likes of regular links. That's nothing compared to videos, though, which are shared by users 12 times more often than text.
One gets an even stronger impression of the power of visual content when looking at primarily textless social networks like Instagram and Pinterest. While the former's user base is growing at a faster rate than Facebook in its prime, the latter now refers more traffic to outside websites than Twitter. As a result, many up-and-coming companies have thrown the bulk of their marketing efforts towards eye-catching photos and video. At the Chicago-based apparel company Threadless, for instance, teams of three employees led by a marketing specialist focus on a single social media platform. This allows them to post unique content that is customized to the layouts and culture of Tumblr, Vine, Vimeo and others.
While a project like this may seem expensive and time consuming, the ubiquity of today's technology ensures that social media marketing remains relatively cheap. The Threadless team shoots most of their stuff on iPhones and edits it with Adobe Premiere, a program that retails for less than $1,000. Despite its cost effectiveness, however, companies must not confuse social media marketing for traditional advertising. Given the enormous amount of information available on the web, many young Internet users have become resentful of publicity stunts. The best social media campaigns walk this fine line by displaying the company's product in everyday use but steering clear of obvious promotional tropes like slogans or logos. This ensures that users see the item in action without detecting a sense of inauthenticity that could drive their interest away.
Questions:
What's an important fact to remember about social media marketing?
Why do social media marketers need to steer clear of slogans or logos?
Source: Ryan Underwood, "Want to Build Your Social-Media Following? Get Visual," Inc., November 2013. Photo by John Fischer.