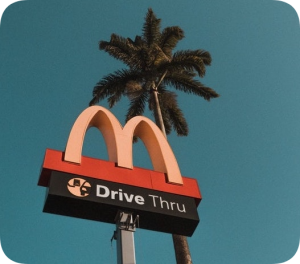 In fall 2020 McDonald's launched the Travis Scott meal, a branded partnership that significantly boosted sales at the fast food chain and earned more than $20 million for the rapper himself. The success of this promotion led to more collaborations with recording artists, including McDonald's latest branded venture with the South Korean pop group BTS. According to observers, U.S. sales of the BTS meal are currently outpacing last year's Travis Scott promotion, with restaurant visits up 12 percent from the same time last year.
But this respectable jump in sales pales in comparison to the frenzy that the BTS meal has caused in Asia. For instance, the promotion launched in Indonesia last week and immediately led to a frenzy of online orders. This resulted in crowds of delivery drivers packing into McDonald's locations across the country, creating potential Covid-19 superspreader events. (Click here to see a picture of one particularly packed store). Concerns over public health in the capital of Jakarta led to the temporary closure of 32 restaurants, which were reopened soon after with capacity limited by 50 percent. 
As a result of the promotion's popularity in Indonesia, McDonald's made sure to reemphasize its pandemic protocols in anticipation of enormous demand in the Philippines. Meanwhile, Singapore delayed the launch of the BTS meal until the country could get people more accustomed to stricter social distancing rules. All told, McDonald's is set to run the promotion in more than 50 countries in the coming weeks, with the company crediting much of its success to the K-pop group's connections with younger consumers. "They look to recommendations much more than any other generation has," said McDonald's chief marketing officer Morgan Flatley. "They're very reliant on social media. They're very reliant on their friends." 
Questions:
Why did authorities in Indonesia close down more than 30 McDonald's restaurants last week?
Why do you think promotions like the Travis Scott and BTS meals have been so popular?
Sources: Rebecca Davis, "BTS McDonald's Meal Sparks Frenzy and Store Closures in Indonesia," Variety, June 11, 2021; Shashank Bengali, "McDonald's in Indonesia Are Forced to Close After a 'BTS Meal' Frenzy That Violated Covid Measures," The New York Times, June 11, 2021; Mary Meisenzahl, "McDonald's New BTS Meal Is Already Outpacing the Hit Travis Scott Meal in Popularity," Business Insider, June 5, 2021.