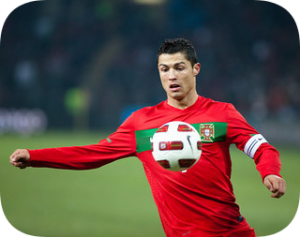 After a year-long delay due to the pandemic, the UEFA European Football Championship is finally taking place across the continent until mid-July. Along with giving sports fans a smorgasbord of summertime soccer to watch, the Euro tournament also provides major brands with a golden opportunity to reach captive global audiences. But as Coca-Cola found out this week, sometimes grabbing attention on such a large stage can backfire big time. 
On Monday, the Portugese superstar Christiano Ronaldo held a press conference ahead of his team's game against Hungary. Displayed on the podium in front of him were a number of drinks, including a couple bottles of Coca-Cola. Upon seeing these beverages, however, Ronaldo removed them from view in an irritable motion and then picked up a bottle of water instead. "Agua!" exclaimed the highly health-conscious athlete in Portugese to the assembled journalists. "No Coca-Cola." 
By the end of the press conference, Coca-Cola's stock price had fallen 1.6 percent, wiping out $4 billion in value in the process. Not only is Ronaldo one of the world's biggest sports stars, but he also has over 300 million followers on Instagram, even more than celebrities like Beyonce and Kim Kardashian West. So while his widespread influence has the power to bring enormous attention to sponsored brands, he can also turn public opinion against companies he does not like, such as Coca-Cola. A spokesperson for the tournament said that "players are offered water, alongside Coca-Cola and Coca-Cola Zero Sugar, on arrival at our press conferences" and that they are all "entitled to their drink preferences."
Questions:
How do you think Christiano Ronaldo's actions at the press conference affected Coca-Cola's brand?
What are the advantages and disadvantages of using celebrities like Christiano Ronaldo for product promotions?
Sources: Alexandra Larkin, "Soccer Superstar Cristiano Ronaldo Snubbed Coca-Cola. Then Their Market Value Sank $4 Billion," CBS News, June 17, 2021; Paulina Villegas, "Cristiano Ronaldo Snubbed Coca-Cola. The Company's Market Value Fell $4 Billion," The Washington Post, June 16, 2021. Photo by Ludovic Péron.