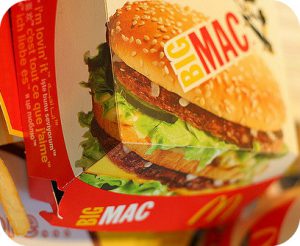 With its signature stack of three buns and two beef patties covered in special sauce, there are few fast food items as famous as the Big Mac. That's why over the years McDonald's has tried to protect its flagship burger by pursuing legal action against any possible imitators. One of the company's latest targets was Supermac's, an Irish chain that sold a suspiciously similar sandwich called the Mighty Mac. Unfortunately for McDonald's, though, this particular case didn't go exactly as planned. Not only did a European Union court allow Supermac's to continue selling the Mighty Mac, but it also revoked McDonald's EU trademark for the Big Mac.
According to the ruling by the EU's Intellectual Property Office, the fast food chain failed to prove "genuine use" of the Big Mac trademark. Although McDonald's provided loads of promotional materials and packaging featuring the burger, the court said the chain's claim needed to be supported by further evidence. Meanwhile, Supermac's accused McDonald's of "trademark bullying" and claimed that the American company's interference had prevented Supermac's from expanding outside of Ireland. With the Big Mac trademark stricken down, however, the chain now plans to open up locations in the United Kingdom and Europe. "Supermac's are delighted with their victory in the trademark application and in revoking the Big Mac trademark which had been in existence since 1996," said company founder and namesake Pat McDonagh. "This is a victory for all small businesses. It prevents bigger companies from hoarding trademarks with no intention of using them."
While McDonald's plans to appeal the court's ruling, for the time being any business operating in the EU is free to use the term "Big Mac" however it pleases. That includes Burger King, which recently added some strangely named items to menus at a few Swedish locations. Along with a chicken sandwich called "The Anything But a Big Mac," the chain also renamed the Double Whopper to "The Burger Big Mac Wished It Was." Burger King executives said they couldn't resist basing a promotional campaign off of their rival's legal troubles. "McDonald's just lost its trademark for the Big Mac for suing a much smaller player," said Iwo Zakowski, CEO of Burger King's Swedish operations. "It's too much fun for us to stay away,"
Questions:
Do you think the EU court was right to revoke McDonald's Big Mac trademark? Why or why not?
Why does McDonald's pursue legal action against supposed imitators like Supermac's?
Sources: "McDonald's Loses 'Big Mac' Trademark Case to Irish Chain Supermac's," Reuters, January 15, 2019; Taylor Telford, "McDonald's Loses Big Mac Trademark. Burger King Adds 'Like a Big Mac, but Actually Big.'" The Washington Post, February 11, 2019. Photo by Josau.