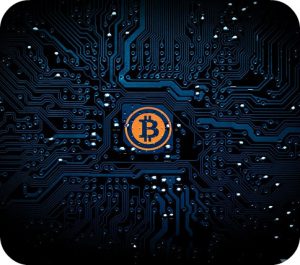 When we last looked at Bitcoin in December, the cryptocurrency's price had skyrocketed to about $16,500 after starting the year at just $985. At its peak a couple of weeks later, a single Bitcoin became worth a whopping $19,511. The ever-increasing success of the cryptocurrency and others like it convinced some investors that the future of money was taking shape before their eyes. Many remained wary of Bitcoin's boom, however, fearing that the bottom could fall out at any time. The economist Nouriel Roubini, famous for predicting the 2008 financial collapse, went so far as to call the cryptocurrency "the mother of all bubbles."
Bitcoin's performance in 2018 so far certainly seems to back up his claim. After dropping steadily from its year-end high, this morning the cryptocurrency fell to $7,643. The price of Bitcoin now sits where it did in November, only this time far fewer people are optimistic about its immediate future. World leaders are among the most concerned parties, with authorities in South Korea, India, China, and even the U.S. openly discussing regulations on cryptocurrency. Along with bad news from global governments, experts are also blaming Bitcoin's recent fall on a theft that saw hackers run off with $500 million in cryptocurrency from a Japanese exchange.
Still, these events pale in comparison to what some fear could be the true problem at the heart of Bitcoin. According to a recent investigation, an exchange called Bitfinex could be responsible for artificially inflating Bitcoin's price whenever it started to drop. Bitfinex issues its own cryptocurrency called Tether, which is tied to the U.S. dollar. Many crypto investors depend on this consistently valued currency to purchase more volatile monies like Bitcoin. In the last few months, however, Bitfinex has created hundreds of millions of dollars worth of new Tether whenever the price of other cryptocurrencies fell. Investigators suspect the money was then used to purchase Bitcoin in an effort to drive the price back up. That means all of the cryptocurrency's gains at the end of 2017 could be entirely fake.
Questions:
Why has the price of Bitcoin plummeted recently?
Do you think it is safe to invest in Bitcoin and other cryptocurrencies? Why or why not?
Source: Eric Lam, Dani Burger, and Joanna Ossinger, "Bitcoin Tumbles as Crypto Bubble Shows Signs of Bursting," Bloomberg, February 2, 2018; Nathaniel Popper, "Worries Grow That the Price of Bitcoin Is Being Propped Up," The New York Times, January 31, 2018.