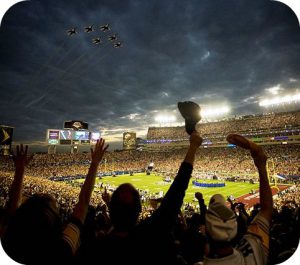 Unlike last year's historic comeback, Tom Brady wasn't able to turn around the fortunes of his New England Patriots to win Super Bowl LII. The Philadelphia Eagles ultimately left as champions after a thrilling game that saw plenty of action on the field. The tone during the commercial breaks was far less tense, however, as marketers largely relied on humor for 2018's crop of Super Bowl ads. Among the top spots on USA Today's annual Ad Meter poll are a combination Mountain Dew/Doritos ad featuring lip-synching celebrities as well as an NFL promo that recreates a famous scene from Dirty Dancing with football stars.
But in a refrain that's become increasingly familiar to the business world, Amazon was the victor on this jam-packed evening. The e-commerce giant aired a spot that used big names like Gordon Ramsey, Cardi B, and Rebel Wilson to provide the voice of Alexa to a series of increasingly confused users. Along with claiming the top spot on the Ad Meter poll, Amazon's commercial is also a rather remarkable technical achievement in its own right. After all, customers have long been frustrated by the Amazon Echo's tendency to respond to any mention of the word "Alexa." In its Super Bowl ad, though, the company embedded "acoustic fingerprints" that prevented any Alexa-enabled devices from activating during the spot.
Of course, no high-tech solution could have silenced the thousands of social media users who raised their voices to criticize the night's most controversial ad. In a somber spot for Dodge Ram, a speech by Dr. Martin Luther King Jr. plays over images of hardworking Americans helping their families and one another. Although Dr. King's estate allowed the company to use the speech, many people felt that his message was too important to be placed in a commercial selling trucks. "I think it was well intentioned, but they're going to have a lot of explaining to do," said Northwestern University marketing professor Tim Calkins. "They did not release this ahead of time, so they went for the surprise. They got that, but at the same time, they now have a big problem with feedback and people being upset."
Questions:
Why do you think marketers largely relied on humor for this year's Super Bowl ads?
Do you think it was a good idea for Dodge to use a Dr. Martin Luther King Jr. speech during an advertisement? Why or why not?
Sources: Alan Siegel, "Amazon Edges NFL in Ad Meter Even Closer Than Super Bowl LII," USA Today, February 5, 2018; Sapna Maheshwari, "Advertisers Eschew Politics for Humor in Super Bowl Commercials," The New York Times, February 5, 2018; Brad Stone, "Here's Why Alexa Won't Light Up During Amazon Super Bowl Ad," Bloomberg, February 2, 2018.