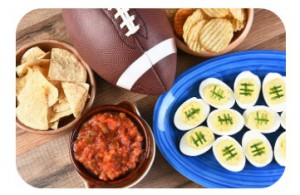 Unlike last year's dominating display by Denver, Super Bowl LI provided viewers with plenty of drama as Tom Brady led the New England Patriots to a historic comeback victory. And like the big game, there were winners and losers on the ad front as well. According to USA Today's annual Ad Meter poll, the top rated spot of the evening belonged to Kia's "Hero's Journey." In the clip, Melissa McCarthy tries her best to save the planet only to be thwarted in increasingly violent ways. The lowest rated commercials all belonged to mobile video game spots that apparently didn't connect well with viewers.
Good or bad, though, all these ads have at least one thing in common: they were expensive to air. This year the average cost of a 30-second spot climbed to $5 million, up from $4.8 million last year. But airtime wasn't the only thing that companies splashed cash on this Super Bowl season. To grab viewers' attention in the run-up to the game, in recent years brands have started to premiere ads online before they hit television. As a result, companies can now spend just as much money marketing a Super Bowl commercial as they pay to air it.
"Even though the spots have incredible viewership — as much as the game itself — you never know," said Mary Scott of the sports marketing agency UEG. "There's become more of a game around the game in terms of ensuring that really pays off in a big way." Scott recommends that her clients spend an equal amount marketing their Super Bowl ads as they spend on broadcasting them. The clearest path to consumers is through social networks like Facebook, Instagram or YouTube, all of which have their own unique ad-buying structures and audiences. This "drumbeat" approach to marketing has largely replaced the "big moment" that many brands wanted to capture during Super Bowls past. Whether or not this becomes a long term trend remains to be seen.
Questions:
Which Super Bowl marketing strategy do you prefer: a gradual, "drumbeat" approach or an eye-catching "big moment" on the night itself?
Do companies spend too much money on Super Bowl ads?
Source: "2017 Ad Meter Results," USA Today, Accessed February 7, 2017; Sapna Maheshwari, "$5 Million for a Super Bowl Ad. Another Million or More to Market the Ad," The New York Times, January 29, 2017. Photo by U.S. Department of Agriculture.