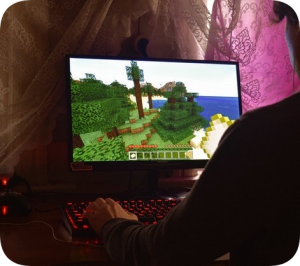 As the pandemic forced Americans to stay at home a year ago, many people turned to indoor activities like baking, watching TV, and playing video games to pass the time. Sales of products like baking accessories and new televisions increased as a result, but video games skyrocketed in popularity to a degree never seen before. In 2020 Americans spent a record $56.9 billion on gaming, a 27 percent increase from the year before. 
Sony reported a 62 percent jump in profits after releasing the Playstation 5 in November 2020. Meanwhile, Microsoft released a line of new Xbox devices which increased the company's quarterly gaming revenue by $5 billion. But not even these established players could compare to the surging popularity of Roblox, a gaming platform aimed at kids that recently went public. Roblox stock closed at nearly $70 per share on its first day of trading, giving the company a valuation of approximately $45 billion. "The game industry's swimming in cash," said Joost van Dreunen, a business professor at New York University who specializes in video games. "It's just raining money on these people, on these companies."
Independent games like Among Us also became widely popular last year, leading to competition between big developers like Take-Two Interactive and Electronic Arts to buy up small operations. Hundreds of new gaming startups also launched during the pandemic in an effort to get in on the bonanza. "It seems like there is a new start-up funded nearly every day," said Evan Van Zelfden of the advisory firm Games One. "Everybody wants to be the next Roblox." As pandemic restrictions start to ease and a vaccinated population returns to offices and schools, however, it's possible that the seemingly endless growth of video games could grind to a halt. "There's going to be a lot less time to play Roblox," said van Dreunen.
Questions:
Why did video games explode in popularity last year?
Do you think video games will continue to increase in popularity after the pandemic? Why or why not?
Source: Kellen Browning, "Roblox Tops $45 Billion on First Day of Trading as Gaming Booms," The New York Times, March 10, 2021.