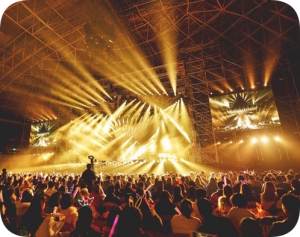 Thanks to the popularity of streaming services like Spotify and Apple Music, some lucky musicians can go viral and attract large fan bases very quickly. In the past, artists often had to tour across the country for years playing small clubs before they got noticed by major record labels. That's not the case these days, though. For instance, the teenage singer-songwriter Billie Eilish released her debut album less than a year ago and has already sold out a stretch of 42 arena shows. Her success is part of an overall upswing in the live music industry, which analysts predict will grow into a $32 billion business by 2020. 
Increasingly expensive arena concerts have been the primary driver of this live music boom. But while artists from the Eagles to Harry Styles can pack stadiums full of paying customers, arenas sometimes have trouble finding room on their busy schedules to book these shows. After all, the New York Knicks of the NBA and the NHL's Rangers both keep Madison Square Garden's 20,000 seats filled for most of the year. In Los Angeles, meanwhile, the Staples Center hosts three professional sports teams. According to the real estate development firm Oak View Group, an arena can generate twice as much profit from a concert than an NBA or NHL game. That's why in 2014 developers renovated the Forum, a venue that was once home to the Los Angeles Kings as wells as the Lakers. This longtime sports arena is now one of the most consistently profitable concert venues in the nation. 
Developers are now looking to replicate the Forum's success in different markets across the country. Oak View Group, for example, recently announced a multi-billion dollar plan to construct six new arenas that will be dedicated to concerts rather than professional sports. By focusing on acoustics instead of athletics, the company says that growing cities like Austin, Texas, and Palm Springs, California, could schedule twice as many arena shows. Along with developing venues domestically, Oak View Group also sees potential opportunities in foreign markets like Manchester, UK, and Milan. 
Questions:
What are some ways that streaming services like Spotify and Apple Music have changed the music industry?
Why are real estate developers like Oak View Group investing billions in arenas designed for concerts rather than sports?
Source: Anne Steele, "Concerts Are New Arenas' Main Attraction, Rather Than Sports," The Wall Street Journal, November 19, 2019.