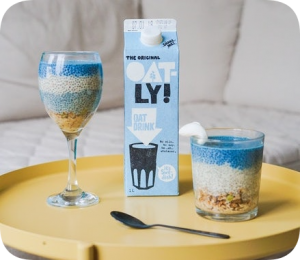 The Swedish company Oatly began making oat milk in the early 1990s and steadily grew a dedicated following among health conscious European consumers. But the beverage really took off in the late 2010s when Americans got in on the craze, sending Oatly's sales soaring and attracting interest from high-level investors. To enable the brand to grab market share while it was available, Oatly received major investments from companies like Blackstone Group as well as celebrities like Oprah Winfrey and Jay-Z. By May 2021, Oatly issued an IPO that valued the company at roughly $10 billion.
Things have changed dramatically in the year since then, however, as a troubled American expansion left the company unable to capitalize on increasing demand. Oatly attempted to build and operate factories in the U.S. but faced equipment shortages, miscalculated budgets, and major production delays. These issues have led to frequent shortages of Oatly products on store shelves and in coffee shops. In fact, the company lost its contract with Starbucks when the chain started running low on Oatly inventory after just a few weeks into their brand partnership. As a result, the company lowered its sales forecasts which then triggered a collapse in its stock price, leading to an 80 percent drop from its 2021 highs. 
To make matters worse, Oatly is rapidly losing ground to competitors who are taking advantage of gaps within the market. For instance, America's top selling oat milk brand is now Planet Oat, which is owned by the dairy giant HP Hood. Other big names are also muscling in on this $400 million market, which has grown by 300 percent since 2019. While Oatly still retains a prominent global presence, its failure to expand in the U.S. has experts worried that it won't be able to keep up with the rapid demand it created. "Oatly was first to the fight, but then people saw the trend and the big companies jumped on it," said food industry analyst Robb Pretasky. "You can't have empty space."
Questions:
How did Oatly fail to capitalize on demand despite reaching the market first?
What advantages do large companies have over up-and-coming brands that establish new markets?
Source: Khadeeja Safdar and Jesse Newman, "Oatly's Growing Pains Trip Up Pioneer of Oat Milk," The New York Times, March 14, 2021.