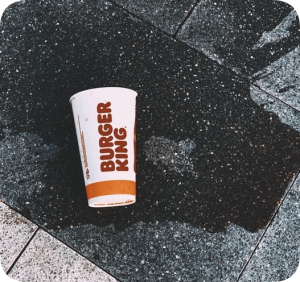 Earlier this week, we looked at how some companies faced increasing pressure from consumers to halt their operations in Russia during the ongoing invasion of Ukraine. While chains like McDonald's eventually listened to the outcry and shut down their Russian locations, other companies could not join the "corporate exodus" as easily. Burger King, for instance, has about 800 locations in Russia that are owned by independent franchisees, meaning the company cannot shut them down directly.
But with the eyes of the world still fixed on Ukraine, brands like Burger King need to demonstrate that they are taking action in this turbulent time. So while the company cannot shut down its operations entirely, Burger King recently announced that it was ending corporate support for its Russian locations and will not approve any further investments. Little Caesars made a similar break with its franchisees while beverage brands like Coca-Cola, Heineken, Carlsberg, and Pepsi announced that they would suspend Russian operations as well. Retailers are also leaving Russia en masse, with Uniqlo, Adidas, and Unilever joining Ikea and TJ Maxx in shutting down stores and ending e-commerce capabilities in the country. 
Energy companies are also breaking ties as Shell, BP, and Exxon Mobil sell off their stakes in Russian oil ventures with state-owned companies. On the media side, Netflix suspended its service while Disney and Sony announced that they would pause the release of new movies in Russia. Sony shut down its video game business as well, saying that it had "suspended all software and hardware shipments" to Russia while also closing the online PlayStation Store. Other tech giants that have taken action include Google, which stopped its ad business in the country and took YouTube offline. Microsoft and IBM halted sales in Russia while manufacturers like Caterpillar and Hitachi also halted operations. More companies across numerous other industries have cut ties with Russia, and only time will tell if and when they will return again. 
Questions:
Why are companies in many different industries making such public breaks with Russia? 
Do you think companies that have halted their Russian operations should stay out of the country permanently? Why or why not?
Sources: Dee-Ann Durbin, "McDonald's, Starbucks, Coke, Pepsi Join Exodus Out of Russia," Associated Press, March 8, 2022; "Here Are Some of the Companies That Have Pledged to Stop Business in Russia," The New York Times, March 10, 2022.