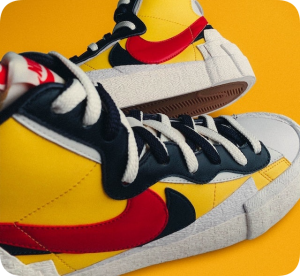 The global sneaker market has grown into a massive $72 billion industry where collectors often accumulate hundreds of pairs of limited-edition shoes from giants like Nike and Adidas. Some lines go on to command huge prices on the resale market, such as a collaboration between Nike and ice cream maker Ben & Jerry's called Chunky Dunky. Originally sold for $100, these shoes now sell for as much as $1,000. High price tags like these don't just attract the attention of collectors: they also stir the interest of counterfeit shoemakers who manufacture convincing fakes on a scale that eclipses the legitimate market. 
According to the fitness trend firm RunRepeat, the market for bootleg sneakers in 2021 might have been worth a whopping $450 billion. To combat this flood of fakes, collectors and resellers alike turn to authenticators at companies like StockX and eBay to ensure that they have the real deal. These experts have the skills to tell the difference between increasingly sophisticated bootlegs and genuine shoes. With Chunky Dunkys, for instance, an authenticator said that real ones smell like animal fur while the fakes have a distinct scent of factory glue. Other details are purposefully kept secret in order to stay a step ahead of counterfeiters. "That's another reason why we don't really tell people what every aspect of our test is," said Garry Thaniel, eBay's general manager of sneakers. "Just because people will plan for those things."
Although StockX once reigned supreme as the central source for sneaker authentication, eBay has grabbed a significant share of the market after launching its Authenticity Guarantee (AG) program in 2020. In fact, the online auction house saw sneaker sales increase by triple digits in the months after debuting AG. eBay also operates authentication booths at sneaker conventions to provide on-site inspections, an essential service that routinely identifies fakes before they sell for hundreds of dollars. While some counterfeiters are looking to game the lucrative resale market, others are simply satisfying consumer demand for cheaper versions of expensive shoes. "There will always be some customers that are fooled and are victims themselves, but there are some customers who are part of the problem," said Susan Scafidi of the Fashion Law Institute. "So it's a supply-side problem and a demand-side problem at the end of the day."
Questions:
Why have authenticators like StockX and eBay become essential services for the sneaker resale industry?
Why are companies like Nike and Adidas protective of their brands against counterfeit shoemakers?
Source: Praveena Somasundaram, "As Counterfeits Rise, Sneaker Authenticators Sniff Out Real From Fake," The Washington Post, September 30, 2022.