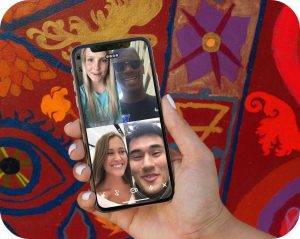 Since launching in 2016, the group video chat app Houseparty has attracted a dedicated userbase of young people looking to talk with their friends wherever they please. "Houseparty is basically the third place for Generation Z and young millennials," said co-founder Sima Sistani. "What they're doing there is hanging out in the way we used to in the backyard, the basement, or in my case — the Waffle House." And unlike many other Silicon Valley startups, Houseparty doesn't plan to earn money by filling its app with ads. Instead, the company wants to provide its users with services rather than commercials.
The first step in this process is Houseparty's recent partnership with Heads Up, a popular party game app that's like a modern take on charades. Ellen DeGeneres frequently plays the game on her daytime talk show, a promotional tie-in that has helped earn the app more than 25 million downloads. And according to its agreement with Houseparty, users can now play Heads Up in the video chat app for free. Of course, certain "packs" of words will cost a dollar or more, with the money being split by both Houseparty and Heads Up. (DeGeneres will also promote the partnership by playing Heads Up on Houseparty during her show.)
If this initial idea proves to be successful, Houseparty plans to establish partnerships with other tech companies for similar tie-in promotions. The startup's founders hope that these ventures will provide enough revenue to keep the app ad-free for the foreseeable future. After all, a series of scandals involving big companies like Facebook are making consumers increasingly suspicious of ad-driven social networks. "We're really starting to think about ways we can make money by bringing value to our users, not extracting value from them," said Sistani. "This is our first attempt at curating something for them to do while they're together."
Questions:
Do you think Houseparty's plan to earn revenue by providing users with services rather than ads will be successful? Why or why not?
Why do you think consumers are becoming increasingly suspicious of ad-driven social networks like Facebook?
Source: Casey Newton, "Houseparty Adds Heads Up in a New Push Into Gaming and Revenue," The Verge, January 17, 2019.