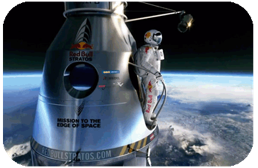 Ever since The Colgate Comedy Hour premiered in the 1950s, companies have been happy to stamp their names across a variety of entertainment ventures. For some modern companies, though, simply being the sponsor of an event no longer has the same appeal. After all, nearly every form of mass entertainment features a sponsor of some type. Whether it's TV, concerts or sporting events, consumers are constantly bombarded with the names of corporate benefactors, making it difficult for some brands to stick out from the crowd.
That's why companies like Red Bull are trying their hands at actually producing entertainment content rather than just sponsoring it. Last year the energy drink giant made headlines when it showed the world the flight of Felix Baumgartner, a daredevil who skydived from outer space a harrowing 24 miles. Red Bull did far more than just slap its name on Baumgartner's flight suit. The company spent 7 years organizing the jump with the skydiver and directed all the coverage of his flight. Footage of the event received syndication on 80 TV outlets in 50 countries and received more than eight million views on a record-breaking YouTube live stream.
For Red Bull, that means the jump was more than just a marketing ploy, it was a moneymaking venture as well. TV licensing fees and massive ad revenue from the YouTube channel amount to more than just small change. Along with its historic space jump, Red Bull also bankrolls other "extreme" sports like skateboarding and cliff diving. In the past the company simply sponsored these events and released the content for free. Now that Red Bull is making strides as a media magnate, however, it releases videos through pay-per-view services. One documentary about snowboarding that the company released through iTunes last year spent its first week as the site's most viewed video, demonstrating that consumers were willing to pay for Red Bull's content. The company hopes to create 1,000 hours of footage next year as it pushes to turn a profit from its production arm within the next few years.
Questions:
Why would Red Bull choose to develop its own programming?
How much does company affiliation with an event or program affect product sales?
Source: John Jurgensen, "The New Producers," The Wall Street Journal, December 21, 2012. Photo courtesy of Cyril Attias.