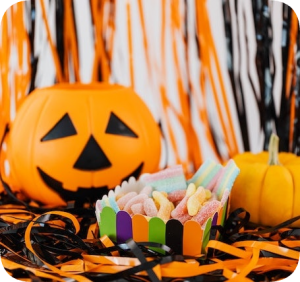 Last year, we looked at how rising candy prices and increased enthusiasm for spooky season led Americans to spend big on Halloween. And by all accounts, it looks like 2023 will be no different: not only are consumers expected to buy lots of costumes and candy, but they will also pay more for the privilege. According to the Bureau of Labor Statistics' (BLS) latest Consumer Price Index (CPI) data, candy and chewing gum prices jumped by 7.7 percent from last year, reflecting a 7.7 percent increase in sugar prices. 
That's on top of the previous 13 percent increase in candy costs from 2021 to 2022, which could lead to some sour reactions at the cash register when consumers ring up their sweets. Still, analysts expect Americans to eat the extra costs like so many fun-size chocolate bars, with CPI data showing that consumers will splash $3.6 billion on candy this Halloween. A 14 percent increase from last year's numbers, some of this additional spending could stem from rising enthusiasm for the holiday. The National Retail Federation claims that 73 percent of Americans plan to celebrate Halloween this year, slightly higher than 2022's 69 percent. 
Along with excitement for the season, increased sugar costs resulting from global supply chain problems appear to be the main cause of rising candy prices. "The reason why the prices are high and remain high is not only because of the inflation in the economy, but also just the supply not being as available as it was," said sugar analyst Andraia Torsiello. "India is actually a major exporter and they've had really poor weather conditions, so they're suffering from a really dry monsoon period." Shortages of cocoa have also resulted from these dry conditions, contributing to even more cost increases. Nevertheless, one survey found that 9 out of 10 Americans plan to buy candy for trick-or-treaters this year. "Folks are still ready to celebrate… we're still spinning out of a pandemic, people are spending more time celebrating, even elongating seasons," said consumer analyst Andy Keenan. "There's a lot of nostalgia with Halloween."
Questions:
Why have sugar prices increased once again this year? How will this affect prices for popular sweets during the Halloween season?
Why do you think consumers remain excited for Halloween in spite of rising prices?
Source: Brooke DiPalma, "Halloween Spending Expected to Hit Record High as Sugar Prices Continue to Rise," Yahoo Finance, October 12, 2023.